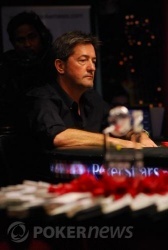 Gordon Huntly has put a stop on Binh Nguyen's consecutive take down of pots.
Pre-flop, Binh made it 200,000 to go with a call from Gordon.
Flop:



Binh again led out with 200,000 with another call from Gordon.
They checked the turn

.
River:

Binh resumed aggression with a bet of 300,000 and again called by Gordon. Binh had to show his losing hand of


to Gordon's


.