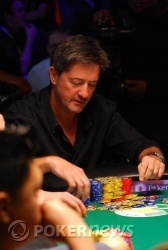 Gordon has taken back some of his chips from Binh Nguyen in recent hands.
A few hands ago, Binh made a pre-flop raise to 150,000 and Gordon re-raised to 485,000. After some consideration, Binh made the laydown.
Later, Binh raised again pre-flop for 150,000 and got just a call from Gordon.
Both checked the



flop. On the

turn, Binh made a bet of 200,000 and Gordon called.
When the

came on the river, it was Gordon with the aggression as he put 500,000 into the pot.
Binh took a minute to think then made the fold.