Event Info
| | |
| --- | --- |
| Players | 430 |
| Players Left | 1 |
Level Info
| | |
| --- | --- |
| Level | 27 |
| Blinds | 40,000 / 80,000 |
| Ante | 5,000 |
Level:

24
Blinds:

20,000/40,000
Ante:

4,000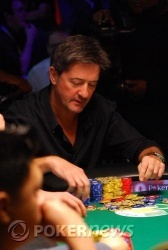 Gordon Huntly and Terrence Chan were the only players left before the flop.
Flop:



Terrence led out with the minimum bet of 30,000 which Gordon called. They checked on the turn

and river

.
Terrence showed


which Gordon beat with his


.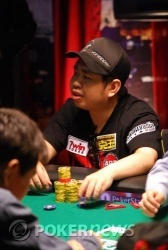 It seems like Charles 'Mr. Macau' Chua has the respect of the final table.

He has gone all-in pre-flop a total of three times in the last hour and a half but has not gotten any callers so far.

He currently has about 400,000 in chips.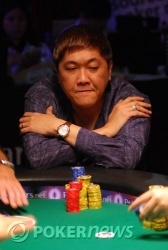 After Gordon Huntly bet 125,000 on a board of



, Choon Lim re-raised him to a total of 425,000.
Gordon thought for a while and made the call. His cards wouldn't be good enough, though, as Choon tabled


for the rivered straight.
Gordon could only muck his hand as he watched Choon rake in the chips.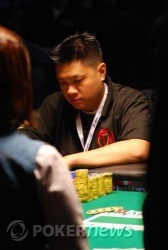 Pre-flop, Choon Lim raised to 70,000 and got a call from Binh Nguyen.
On a flop of



, Choon bet out 115,000 after a check from Binh. After thinking for a while, Binh made the call.
When the turn came the

, Choon bet 215,000, and this time it was enough to get Binh to lay his cards down.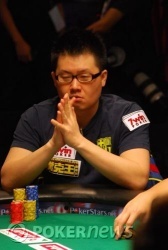 We got a bit of action from Sunny Jung and Kwang Lim.
Before the flop, Sunny made it 70,000 to go and Kwang was the only caller.
Flop:


Kwang check-called Sunny's bet of 90,000. But they both checked the turn

and river

.
Sunny took down the pot with his


while Kwang showed


.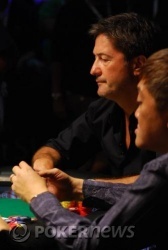 Pre-flop, Gordon Huntly made a raise to 115,000. Choon Lim, sitting to his left, re-raised to 315,000.

Action went back to Gordon who instantly declared all-in.

Choon thought for a while as Gordon sat stone-faced. Finally, he made the fold to give Gordon the pot.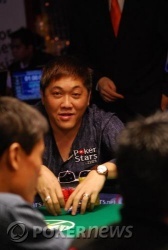 Pre-flop, Binh Nguyen raised to 77,000 and everyone folded to Choon Lim, who declared raise.

He splashed the necessary chips into the pot and then took out another 450,000 more.

Binh, just as surprised as everybody else with the big overbet, decided to get out of the way and folded.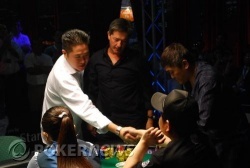 Victor Chang is the third player to leave the final table.
Before the flop, Vic moved all in and Gordon Huntly made the call.
Vic:


Gordon:


Vic was ahead until the flop


was turned over. Vic needed a ten or a king but wasn't able to get any help from the turn

and river

, sending him to the rail.
He gets US $33,900 for finishing seventh.
Level:

23
Blinds:

15,000/30,000
Ante:

3,000