Event Info
| | |
| --- | --- |
| Prize Pool | 10,000,000 PHP |
| Players | 531 |
| Players Left | 1 |
Level Info
| | |
| --- | --- |
| Level | 29 |
| Blinds | 60,000 / 120,000 |
| Ante | 10,000 |
Main Event
Day 3 completed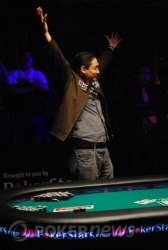 Congratulations to Antonio "Tonypet" Albano, who is the Filipino Poker Tour Metro Anniversary Special champion!

Tony overcame 530 other top-class poker players in the tournament to make it to the final nine.

He maintained a big stack throughout the final table and finally eliminated five players, including the feisty Jade Triste to take home the trophy and Php 3,000,000 in cash.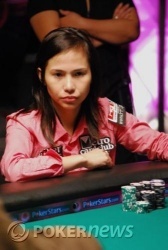 Tony Albano has just won the FPT Metro Anniversary Special!
Pre-flop, Jade shoved with her remaining chips and got a call from Tony.
Jade:


Tony:


Jade was slightly ahead pre-flop with her ace high.
However, disaster struck for her when a king immediately came on the



flop.
The turn
and river

did her no good, giving Tony Albano all the chips on the table.
It was a valiant effort by Jade to overcome her chip deficit with a lot of aggressive play. She exits as the runner-up but still walks away with a hefty prize of Php 1,700,000.
Level:

29
Blinds:

60,000/120,000
Ante:

10,000
Just after doubling Jade up, Tony has seized some of his chips back again.
On a board of




, Jade bet 200,000 and Tony called.
After the

on the river, Jade bet 300,000 and Tony called again.
Jade just mucked her hand, signifying that she was just bluffing.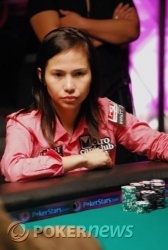 With her chips dwindling, Jade finally made an all-in call and it turned out to be a good one.
With the board showing




, Tony went all-in and got instantly called by Jade.
Tony showed


for the flush draw while Jade had


for the made straight.
The

landed on the river and Jade doubles up to about 2,200,000 in chips.
Tonypet raised to 500,000 pre-flop. Jade folded her hand and Tonypet showed his pocket tens just to prove he wasn't joking.

Jade is down to about 1,600,000.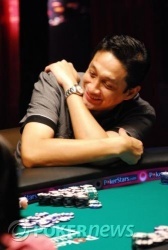 On a flop of


, Tony Albano bet out 350,000 and Jade called.
The turn brought

. Tony bet 350,000 and Jade raised to 950,000, which Tony called.
A jack came on the river, leading both players to check.
Tony then showed pocket sevens and Jade mucked to give him a pot of around 2,600,000.
A recent hand showed that both players had the guts to make bets and call without hitting anything on the board.
After both players limped, we saw the flop


which was checked by both players.
Tonypet then called Jade's lead out for 100,000 on the turn
. After the river

, we got more action from Tonypet's call of Jade's 200,000 bet.
Tonypet's

was ahead of Jade's


for ace high.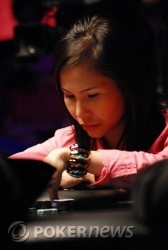 Jade continues to slowly build up her stack.
Recently, she made a pre-flop raise of 300,000 and got a call from Tony.
Flop:


Jade bet 300,000 and Tony folded to give her a pot of 600,000.