Main event
Day 1b completed
After almost 16 full levels of play, Day 1B is finally over. Leading the way is Jun Chanoh, who took most of former chip leader Pichai Lim's stack to take a commanding lead.
Trailing him is Liu Jun Wei with 204,500. Liu was pretty much on the brink of elimination midway through the day but a series of double-ups made him jump to the top of the leaderboards.
Day 1C will at 2:10 pm. See you all later!
| | | | | | |
| --- | --- | --- | --- | --- | --- |
| Jun Chanoh | | | | 254,500 | 4,500 |
| Liu Jun Wei | | | | 204,500 | 74,500 |
| Alex Leung | | | | 181,000 | |
| Vic Catalan | | | | 162,000 | 86,000 |
| Li Jin Hua | | | | 139,000 | 49,000 |
| Markus Garberg | | | | 106,500 | |
| Jimmy Tanto | | | | 53,500 | |
| Yum Hyun Joo | | | | 34,500 | |
| Harold Tsakmaklis | | | | 29,500 | -10,500 |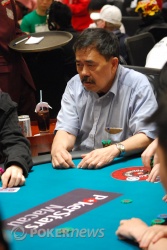 Pre-flop, Ngo Hin Cheng open shoved with 45,000 and got a caller in Vic Catalan.
Vic:



Ngo:


Vic was ahead with the pocket pair and stayed that way as the board ran out





.
With Ngo's elimination, we've got our final nine players for today. Leading the way is Jun Chanoh, who is at about 250,000 in chips.
Stay tuned, we'll have the final chip counts in a while.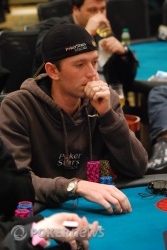 With everybody folding to the last two players, Roel Pijpers decided to make a move by shoving all-in. Vic Catalan made the quick call and the cards were tabled:
Vic:



Roel:


Roel was caught with his hand in the cookie jar and would need to catch some cards to pull out the win.
It didn't happen as the board blanked out for both, doubling Vic to 110,000.
Level:

16
Blinds:

6,000/12,000
Ante:

1,000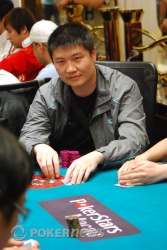 Pichai Lim, who was chip leader for a big part of the day but lost most of his chips in the earlier hand with Jun Chanoh, is out after one of the more unusual sequences we've seen so far.
Pre-flop, Pichai went all-in from the hijack. It was folded to Liu Jun Wei in the the big blind, who asked for a count and got 23,800 for an answer. Liu said something in Chinese which Pichai mistook for "call", leading him to table


.
Apparently, Liu hadn't called yet. As a result, tournament director Danny McDonagh gave him the choice of calling or folding. He tanked for a while, before finally calling -- with


!
The crowd was stunned at how long it took him to think before finally calling with an inferior hand, but the end result was even more of a surprise. The flop was full of blanks but the turn brought a

, giving Liu the improbable pair.
The river was a meaningless

and Pichai hits the rail after being chip leader about four or five hands ago.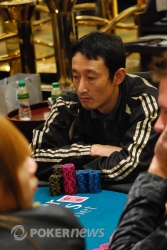 We have a new giant stack in Jun Chanoh, who won a huge pot against former chip leader Pichai Lim.
Pre-flop, Jun raised to 30,000 and Pichai shoved his stack all-in to try and scare him off. It didn't work -- Jun made the instant call with


and Pichai was in big trouble with only


.
The board ran out





to improve Jun to a full house and give him the massive pot of 250,000.
Pichai, meanwhile, is at about 45,000.
Level:

15
Blinds:

4,000/8,000
Ante:

1,000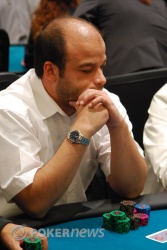 David Mazzeo is now on the rail after running smack into pocket rockets.
Pre-flop, Mike Russell made a raise from the button to 12,000 and David shoved his stack in from the small blind. As soon as the big blind folded, Mike instantly called and the cards were tabled:
Mike:



David:


The board blanked out for both and we are now down to 14.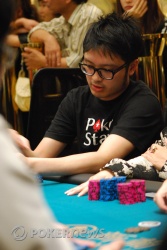 Birthday boy Sparrow Cheung just got his special day dampened a bit after he was eliminated from Day 1B a couple of hands ago.
Pre-flop, Sparrow had his stack all-in with


against another opponent's


.
The flop came



to give Sparrow outs to a straight but the turn and river blanked out to give his opponent the win with top pair.