Main event
Day 1e completed
Here are the final chip counts. Carlos Chang leads the way with 313,500, followed by Albert Lau with 273,500.
Showing that perseverance pays off, PokerStars Team Asia Pro Raymond Wu is sitting in third with with 196,000. Raymond nearly made the cut during Day 1D but fell just short at the end.
Here are the top five overall chip counts heading into Day 2:
Jimmy King - 355,000
Lei Long - 321,000
Carlos Chang - 313,500
Albert Lau - 273,500
Jun Chanoh - 254,500
Day 2 starts tomorrow at 12:10 pm with the 54 remaining players battling it out for the HK $275,000 first prize. No matter where they place, though, the players are all guaranteed to be in the money with minimum payouts of HK $8,000. See you all then!
| | | | | | |
| --- | --- | --- | --- | --- | --- |
| Carlos Chang | | | | 313,500 | 203,500 |
| Albert Lau | | | | 273,500 | 122,500 |
| Raymond Wu | | | | 196,000 | -24,000 |
| David Pan | | | | 176,500 | 98,500 |
| Devan Tang | | | | 172,000 | 24,000 |
| Adrian Lewis | | | | 152,000 | |
| Budi Hartono | | | | 140,000 | |
| Gary Lai | | | | 125,000 | |
| Takeshi Shioji | | | | 114,000 | |
| Kevin Tapley | | | | 101,500 | |
| Yosuke Isobe | | | | 97,500 | |
| Tat Yui Wong | | | | 68,500 | |
| Barry Chang | | | | 49,500 | -30,500 |
| Lawrence Lam | | | | 38,500 | |
| Chris Shu | | | | 25,000 | |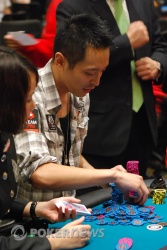 Pre-flop, Martin Nilsson moved all-in from the button with his last 20,000 in chips. He got two callers in big blind Raymond Wu and cutoff Adrian Lewis.
The two bigger stacks then proceeded to check down the flop, turn, and river as the board came out




.
Martin was the first to turn over his cards, showing


. Raymond then casually flipped out


-- two-pair! Adrian just mucked his hand and the remaining players erupted into cheers as they will all be moving on to Day 2 tomorrow.
Stay put, we'll have the official chip counts in a while.
Takeshi Shioji is still alive and well after doubling off Carlos Chang.
Pre-flop, the smaller stacked Takeshi shoved all-in from the small blind with


and got a caller in big blind Carlos, who showed


.
Carlos was ahead with ace high but Takeshi hit on the flop of



to take the lead.
The turn ended any speculation as the

showed up to give Takeshi two-pair and leave Carlos drawing dead.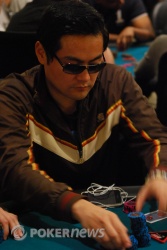 Pre-flop, Chris Shu shoved his remaining stack of 18,300 all-in and got a caller in big blind Albert Lau.
Chris:



Albert:


The flop came



, keeping Chris ahead with the better kicker.
It was all over by the turn as the

landed to give Chris two-pair and guarantee his survival, at least for this hand.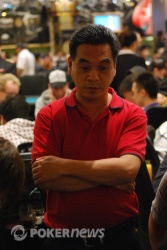 A large crowd gathered as the two remaining tables both had simultaneous all-in moments.
On the first table, Raymond Wu raised 25,000 from the cut-off and the button, Yosuke "Ketuwo" Isobe, went all-in for 15,400 more. Everybody else folded back to Raymond, who made the call.
Raymond showed


to the delight of Yosuke, who had


.
The flop came



, keeping the at-risk player alive. He jumped into the air as a queen then appeared on the turn, locking up his win and ensuring that he his stack would live to fight another day.
On the other table, it was Budi "Kevin" Hartono getting it all-in against a shorter stack who was identified as "Mr. Wong".
Budi showed


, which was way ahead of Mr. Wong's


.
However, the cards had other plans. The flop came



to give Mr. Wong the bigger pair and another king landed on the turn to seal his victory.
Both players survive and we continue with hand-for-hand play.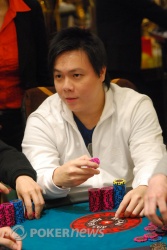 Another player has been knocked out of the tournament after what seemed to be the longest hand so far in the event.
Pre-flop, Devan Tang made a raise to 32,000 from under the gun. The button shoved all-in and when action went over to Budi "Kevin" Hartono in the small blind, he went all-in as well.
After the big blind, action went back to Devan, who tanked for a long, long time. All the while, a large crowd had gathered around the table as people wanted to know if he was going to call or fold.
Devan then asked for a count of the additional chips he needed to call with and got 55,000 as an answer. He then went back to tanking some more, doing all the math in his head and trying to figure out what to do. After being repeatedly called time on, he finally made the fold.
The all-in player showed

but was behind Kevin's

.
"I had pocket fives," said Devan.
If that was the case, then it was already all over for the at-risk player. The board ran out





and the player got up from his seat and left the tournament area.
We are now hand for hand as there are 16 players left. A total of 15 will be making it to Day 2 tomorrow.
Level:

16
Blinds:

6,000/12,000
Ante:

1,000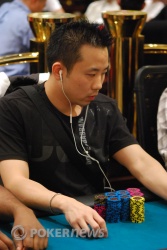 Pre-flop, a player from middle position made a standard raise and Gary Lai in the small blind responded by going all-in. The player, who had a smaller stack, made the call.
Gary:



Opponent:


Gary's opponent had run into a brick wall and would need a miracle to pull out the victory.
Unfortunately for him, the flop of


did not bring help and neither did the

turn and

river.
With that big win, Garry is now among the chip leaders with 210,000.