Main Event
Day 1a completed
After ten levels of play, we've finally finished Day 1A here at the Metro Card Club.
Less than 140 players remain from an initial field of 329. From what we've seen, the current chip leader is Jun Dalaygon, who has built up a stack of 161,600 relatively quietly.
Second is Phil Green, who has been on Table 5 for pretty much the whole day. He has 137,900 chips to his name.
Meanwhile, the Metro Card Club's Nick Galan is going strong with 130,600, while Martin Guiang trails at 124,300.
See you all tomorrow at 3:00 pm for Day 1B!
| | | | | | |
| --- | --- | --- | --- | --- | --- |
| | | | | 161,600 | |
| Phil Green | | | | 137,900 | -2,100 |
| Nick Galan | | | | 135,000 | |
| | | | | 124,300 | |
| Mike Takayama | | | | 95,000 | |
| Jay Morales | | | | 69,200 | 8,200 |
| Vic de Guzman | | | | 63,300 | |
Pre-flop, Martin Guiang raised for 5,000 and got a call from Robert Gamon.
The flop came


and Martin, who was the chip leader at the table, went all-in.
Robert, after giving it some thought, made the call and the cards were tabled.
Robert:



Martin:

"Yeah!" exclaimed Robert as the cards were shown.
"No heart! No heart!" he shouted at the dealer as the turn produced the

.
True to his request, no heart came on the river, Unfortunately, it was the

, giving Martin a set of jacks and sending Robert to the rail.
After losing a big hand earlier, Dana Go has made some new additions to her stack.
With the board showing



and the pot already at more than 12,000, Vic made a bet of 4,000 only to have Dana shove for an additional 4,800.
With a pained look on his face, Vic remarked, "What have I gotten myself into?"
Finally, he made the call, saying "if you have a ten, you win."
Dana did have a ten, showing


before raking in the pot.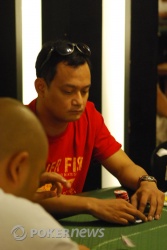 Nick Galan has lessened today's field by one player.
Pre-flop, Nick Galan called an all in shove by a short-stacked player worth 8,000 chips. No other players got involved.
Nick:


Short stack:


The flop


and turn

looked good for the short stack. But it would not hold through the river

.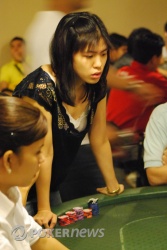 We've had a pair of aces cracked again and this time it's Dana Go on the losing end.
Dana picked up


and made a big raise, getting called by Raul Delos Santos with


.
Flop:



Dana had flopped a powerful set of aces but when the money went all-in, it was Raul in the lead as he flipped over


.
The turn and river did not pair the board or bring an ace, putting a big dent in Dana's stack.
She is now at a little under 40,000 while Raul is at about 78,000 in chips.
Pre-flop, Arnold Leal made it 3,000 to go from the button. His raise got called by the big blind and cut off.
Flop:


The big blind led out with 5,375. Th cut off folded while Arnold raised it to 15,000. The big blind then shoved all his remaining stack of 40,100 and as did Arnold.
Arnold:



Big blind:


The turn

and river

sent the pot in Arnold's direction.
Level:

10
Blinds:

500/100
Ante:

100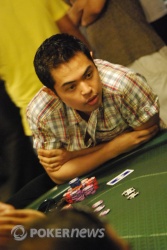 Franco Mabanta has been sent to the rail by Ben Siu.
Pre-flop, Franco moved all in from UTG+1. Ben, on the button, tanked then made the call and was left heads up with Franco.
Ben:



Franco:


The flop



and turn
still gave Franco some hope. But the river

ended Franco's tournament.