Main Event
Day 2 completed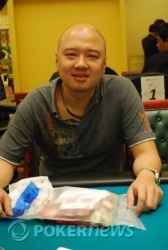 After eighteen grueling levels of poker action, the Resorts World Manila Inaugural Poker Championships now has the top ten players who will battle it out in tomorrow's final table.

Eric Cheung currently holds the chip lead at 427,000 while Martin Gonzales is in a close second. Here's a rundown of the final table:

Seat 1: Paul Hirakawa (344,000)
Seat 2: Willy Maliksi (330,000)
Seat 3: Elmer Binondo (55,000)
Seat 4: Jeon Seung Soo (332,000)
Seat 5: Sam Munloong (142,000)
Seat 6: Martin Gonzales (418,000)
Seat 7: Eric Cheung (427,000)
Seat 8: Geraldo Lubas (180,000)
Seat 9: Sae Jin Lee (320,000)
Seat 10: Ed Marcelo (113,000)

We'll be back tomorrow for the last day of the tournament at 7:00 pm.

See you all tomorrow!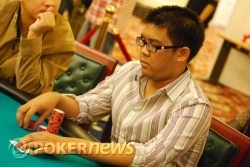 Joey Garcia is eliminated at 11th place.

Joey's hole cards, King-Jack, were dominated by pocket Kings. The community cards were no good for Joey even if the river card was a Jack.

Joey received PhP 43,000 in prize money.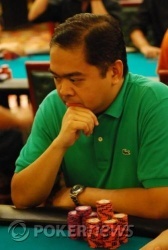 Day 1A chip leader Michael Dario leaves the tournament in twelfth place with PhP 43,000.
Michael moved all in before the flop. Eric Cheung, who had Michael covered, called to pave the way for a showdown.
Michael:


Eric:


Eric was albe to pair his ace on the board and add the pot to his stack.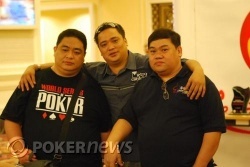 Ralph "Rapido" Darjuan has left the tournament courtesy of Sae Jin Lee.
Rapido moved all in and got called by Sae Jin Lee before the flop.
Rapido:


Sae Jin:

Sae Jin's pocket cards held through the board of





to bust out Ralph "Rapido" Darjuan.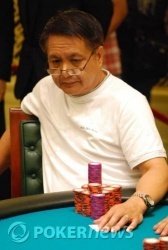 Willy Maliksi has just doubled up through Jeon Seung Soo.
Pre-flop, Willy moved all in with


and got a call from Jeon who turned over


.
The board





gave Willy a full house to increase his stack to more than twice than it was before.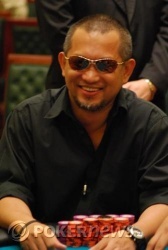 Freddie Dy was eliminated at 14th place.
His trip-Queens was not enough to beat Jeon Seung Soo's boat. Freddie's hole cards were Ace-Queen while Jeon's were pocket fours.
Pre-flop, Freddie bet 32,000 and Jeon flat-called. Both players checked the flop



.
When the turn card came
, Freddie again ledt out with a bet of 32,000 then Jeon moved all-in. Freddie instantly called.
The turn and river could not save Freddie from elimination.
Freddie received PhP 35,000 in cash prize.
Level:

18
Blinds:

4,000/8,000
Ante:

1,000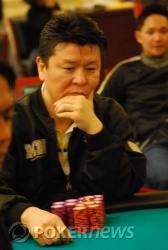 Jeon Seung Soo has just added to his big stack after moving all in.
After the flop


, Jeon pushed all in and moved away from the table prompting a warning advising him to protect his hand.
But there was no caller so the pot was pushed in his direction.