Plugged In
Day 1a completed
After twelve levels of play, 19 players remain out of an original 75 entrants.

Here are the top chip leaders after today:

Ramil Tandoc - 232,000
Leslie Tan - 201,000
Mike Takayama - 169,000
Gabrielle Barredo-Ruiz - 169,000
Ivan de Choco - 149,000
Jay-R "Squeezy" Alquiros - 139,000
John Philip Velasco - 110,000
Nathan de Coey - 99,000
Rene Echevarria - 88,000
Ron "Red Airkson" Regis - 87,000
Mary Grace Bero - 82,000
Alfredo Tan - 60,000

See you all tomorrow for Day 1B!
After 12 levels of play here at the Big Ace Liberty Club, Day 1A of the TPC: Plugged In tournament is over.

Leading the way for the 20 remaining players is Ramil Tandoc, who has a stack of 265,000. We'll have the official chip counts in a while, so stay tuned!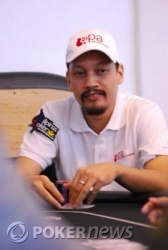 With a few minutes left in the last level of Day 1A, Ron "Red Airkson" Regis doubled up his stack when he went heads up against a middle position player.
Red:


Opponent:


The flop



placed Red way ahead as his opponent would need runner-runner to win.
It did not happen as the turn
and river

doubled up Ron's stack and left his opponent with virtually one and a half big blinds left.
On the last hand for Day 1A, we found 3 players all in pre-flop. A short stacked player together with Allan Barretto and Mike Takayama.
Allan:


Mike:

Short Stack:


The flop


, turn

and river

made it a split pot for Allan and Mike while sending the short stack to the rail.
With minutes to go in Day 1A, Erwin Esguerra gets the boot and will not return to play Day 2.
Pre-flop, Erwin pushed all-in and got a hesitant call from Mary Grace. Gabrielle Ruiz-Barredo, the last to act, tanked before folding.
Erwin:


Mary Grace:


Erwin would be ahead when the flop came



and stayed in the lead on the turn of

.
However, a

struck on the river, knocking him out of the tournament just before the end of Day 1A.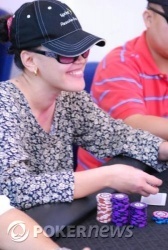 Pre-flop, Gabrielle Ruiz-Barredo raised it to 20,000 from under-the-gun and had Erwin Esguerra go over the top with an all-in from the button. The blinds folded which left them heads up.
Gabby:

Erwin:


The flop


kept Gabby ahead and she pleaded the dealer to keep it that way.
The
would land on the river, prompting a loud shriek from Gabby and leaving Erwin drawing dead. The

would do no good for Erwin, giving Gabby the big double-up.
She now has about 165,000 in her stack, making her one of the chip leaders of Day 1A.
There are only eight minutes left in Day 1A and it looks like we have about 21 players left in the field.

Tournament director Lloyd Fontillas told the players to stay behind for the chip counts as the top ten chip leaders will automatically get VIP passes to the TPC party happening at Alchemy on Monday night.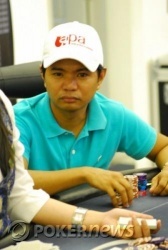 Ramil Tandoc again added to his big stack, this time courtesy of Erwin Esguerra.
We caught the action after the flop of



. Erwin made it 16,500 to go from the big blind, which was called by Ramil.
On the turn

, Erwin checked and Ramil bet 100,000. Erwin tanked and decided to fold adding, around another 40,000 to Ramil's stack.
Level:

12
Blinds:

2,500/5,000
Ante:

500