Plugged In
Day 1c completed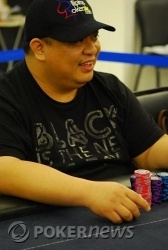 20 players from Day 1c have made it through to Day 2 starting at 2pm tomorrow.

Major Chip Stacks

George Lim 235,000
Edgar Felix 189,000
Paul Martin 122,000
Rodel Velizano 115,000
Charles Pascual 108,00

Of the 173 entries in this tournament 43 players will continue into Day 2.

We will be back tomorrow at 2pm, See you then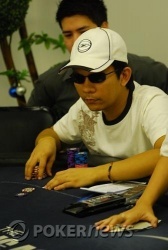 Rodel Velizano has ended Milbert Bautista's tournament.
Before the flop, Milbert called Rodel's all in push. When their cards were turned over, Rodel's


dominated Milbert's


.
The flop



to further boost his hand. The turn

and river, which was the

, was just plain overkill.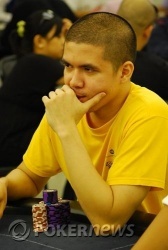 Arvy Trinidad has just doubled up courtesy of Francis Generao.
Francis pushed all in only to get called by Arvy pre-flop.
Arvy:


Francis:


The flop


was on Francis's side. But the turn

gave Arvy the straight as the river

was no longer a factor.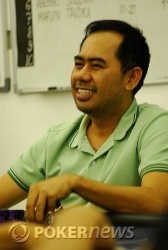 Paul Martin's red queens have ended Rafael Gabriel's tournament.
Rafael's


couldn't topple the ladies as they held through the flop

, turn
and river

.
Level:

12
Blinds:

2,500/5,000
Ante:

500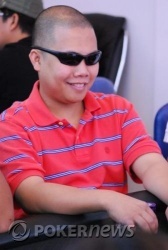 Rhommel Atiga placed his tournament on the line when he pushed all in and got called by George Lim pre-flop.
Rhommel:


George:


The flop



turned against George. While the fourth community card

was useless and the river
ensured a double up for Rhommel.
Dexter running low on chips decided to make a stand with


only to get one caller, George Lim holding


.
Neither player made a pair on the flop


, turn

and river

that sent Dexter to the rail.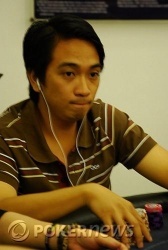 Charles Pascual just stacked up his chips amounting to 100,000 after he pushed all in before the flop and got a call from Martin Ealdama.
Charles:


Martin:


The flop

gave hope to Charles's hand which did not come on the turn

but on the river

that doubled him up.
Level:

11
Blinds:

2,000/4,000
Ante:

500