Plugged In
Day 2 completed
Here are the chip counts heading into tomorrow's final table which starts at 5pm:

Mark Pagsuyuin - 241,000
Mark Benasa - 566,000
Ron Regis - 305,000
Marvin Tavora - 334,000
Norbert Koh - 868,000
Bong Gloria - 627,000
Auts Garcia - 8,000
Leslie Tan - 939,000
George Lim - 438,000

See you at 5pm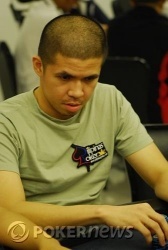 We've just have a huge hand unfold here in Day 2.
Pre-flop, we had three players all-in: Bong Gloria, Arvy Trinidad, and Joel Melchor.
Bong:


Arvy:


Joel:


The board blanked out with





to send Arvy and Joel to the rail.
Arvy, who had the bigger stack, exits in 10th with Php 11,000 in prize money.
Joel, meanwhile, wins Php 10,000 for finishing 11th.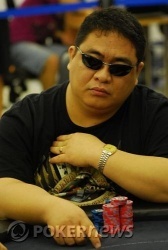 George "BhuddaGeorge" Lim has made his intentions clear with all in pushes very close to each other and each time stating...

"Either I go into the final table with a big stack or not at all."

He did collect both pots without getting any callers when he pushed.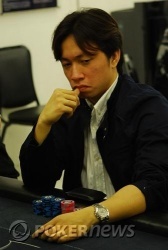 Pre-flop, Angelo Felix pushed all-in with his remaining chips and got a call from Leslie Tan.
Leslie:
Angelo:


It was bad pre-flop for Angelo and only got worse when the cards were dealt





to give Leslie a set.
We are now down to the final eleven players.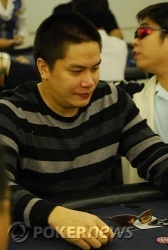 Pre-flop, Marvin Tavora pushed all in which got called by Leslie Tan and Mark Benasa who both had Marvin covered.
Leslie lead out and Mark folded after the flop


.
Marvin:


Leslie:

The turn

and river

kept Marvin in the tournament.
Level:

19
Blinds:

15,000/30,000
Ante:

3,000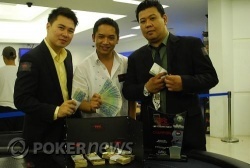 Players are now returning to their seats after the short break.

In the meantime, here's a shot of the cash box, which is out on the tournament floor.

As tournament director Lloyd Fontillas said, "We don't give checks here at the TPC!"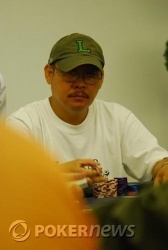 Pre flop three players had pushed all in and Arvy Trinidad was the player with the most chips and the best hand.
Arvyt


Lito Gloria


Button

The board came



giving all the players something but the turn sealed it for the ace king suited when the

.
The pot was shipped to Lito Gloria leaving Arvy short stacked and the player on the button out.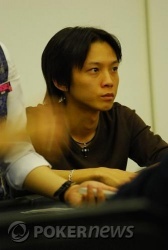 With his stack running low at 43,000, Ivan Dee Choco pushed all-in with


and got two callers.
Both of those players checked the



. When the turn came

, Mark Benasa bet 100,000 and was re-raised to 250,000 by the other player.
Mark folded and the other player showed


for the straight.
Ivan still had outs for the nut straight but it never came as a

landed on the river.
We are now down to 14 players.