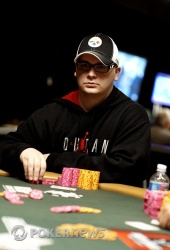 Steve Billirakis was the bring-in and Joe Cassidy completed. Nikolay Evdakov raised and both Billirakis and Cassidy made the call. Cassidy paired and fired a double bet on fourth but both Evdakov and Billirakis made the call.
Billirakis' board pair on fifth and he led out. Cassidy has seen enough but Evdakov called bets on fifth, sixth and seventh.
Billirakis: (X-X) /



(X)
Cassidy: (X-X) /




Evdakov: (X-X) /



(X)
Billirakis revealed

for rolled up fours that improved to a full house which was too good for Evdakov as his cards hit the muck. Evdakov slips to 460,000 with Billirakis up to 700,000.