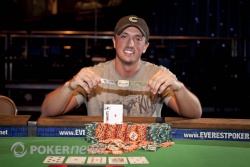 What can we say about Carter Phillips? He's barely old enough to legally consume alcohol in the United States, but he already has two major wins under his belt -- an EPT title and now a WSOP gold bracelet. Phillips used a combination of good cards, excellent timing and power poker to bulldoze his way through the last 16 players in this field enroute to victory.
It's true that Phillips had to get lucky to win. If his all-in confrontation with Craig Bergeron towards the end of the tournament had gone the other way, Phillips would have become the short stack with about 1.2 million chips and Bergeron would have been the one able to swing the bully stick.
But nobody should take anything away from Phillips. He put himself in a position to get lucky with strong play. Phillip' most impressive hand today may have been his absolutely sick call with just a pair of treys on the turn after Mikhail Lakhitov check-raised all in. Phillips never hesitated when he called. It turned out his hand was in the lead and faded 15 outs on the river to send Lakhitov to the rail.
In what was arguably the youngest final table in WSOP history, it was only fitting that the 21-year-old Phillips should be the player to capture the bracelet. When asked how it felt to be the one to win, Phillips said, "It's more amazing than I ever could have imagined."
For all of his skill, stamina, luck and heart, Phillips banks the champion's share of the prize pool -- $482,774. He'll also add a new piece of jewelry to his collection at a bracelet ceremony tomorrow.
Until then, you can find us at the bar.