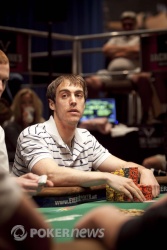 Jason DeWitt tried the button-limp once again and Sam Trickett checked his option in the big blind.
They took a flop of

and Trickett checked to DeWitt who bet 120,000. Trickett made the call.
The turn was the

and Trickett led out for 350,000 before DeWitt raised it up to 1.1 million. Trickett made the call as complete hush fell over the final table area.
The fans were anxiously awaiting the

river card where Trickett checked to DeWitt who took his time before betting a cool two million. Trickett tanked, and understandably as this was already the biggest pot of the tournament.
Trickett eventually found a fold and DeWitt takes down a monster pot without showdown!
Every hand here is very tense and very drawn out at the moment with that one taking a good ten minutes!
DeWitt - 7.2 million
Trickett - 4.68 million