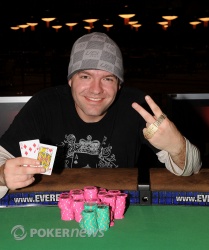 After a third consecutive marathon day of limit poker, Dutch Boyd has overcome a significant heads-up chip deficit to claim his second gold bracelet and nearly a quarter-million dollars.
It was another impressive performance for a man that a lot of people love to hate. Boyd was focused and collected during the course of this event, and he picked his way quietly through the first two days to put himself in a position for a run deep into tonight's final table.
At the end of it all, Boyd came up against one last formidable foe, and Brian Meindings held about a two-to-one chip lead when the heads-up duel began. Boyd chose his spots carefully, though, and he battled his way back into contention and back into a chip lead within a level or so of back-and-forth action. It wasn't an easy put-away by any means. Meindings and Boyd traded big shots back and forth for hours.
Finally, nine levels deep into the night, Boyd put Meinders' final chip into his own stack, and he was finally able to raise his arms above his head and let out a huge sigh of solid-gold relief as the dealer put the last card down on the last board of the night. By outlasting Meinders, Boyd has joined the multiple bracelet club and added another notch in impressive WSOP belt, which is beginning to get pretty impressive. Along with it, he'll cash a check for $234,065, and that will go a long way in his hunt for bracelet number three.
That's about all we have for you tonight. We send our congratulations to Dutch Boyd on his freshly padded pockets and his new piece of jewelry.
All that's left is goodnight; we'll see you tomorrow to do this whole thing all over again.