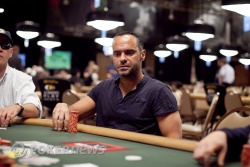 In addition to his successful poker career, 40-year-old Michael Greco of England is an actor best known for his role as Beppe di Marco in the popular British series "Eastenders," where he starred from 1998-2002. Indeed, when back in England Greco still routinely gets recognized for the role.
Over here in the States, Greco usually doesn't have the problem of people calling him "Beppe," because we Yanks aren't familiar with the show.
Greco is sitting on the short stack at the moment (ninth out of nine). With the recent level change he's down to less than nine big blinds, so we expect a move from Beppe... er, Michael, quite soon.