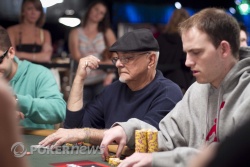 Joseph Pitti moved all in with his last 51,000 chips and was called by Daniel Fuhs and John Dolan.
Pitti didn't realized that Fuhs called and tabled his hand, pocket queens.
The board




was checked down to the river and Fuhs tabled


. Dolan mucks and Pitti is out of the tournament.