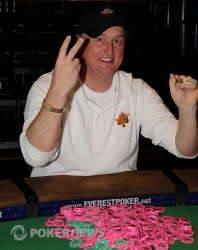 Last year was the year of the multiple bracelet winner, and it took forty long events to find our first one at the 2010 World Series of Poker.
Frank Kassela, a husband and father of five from Memphis, Tennessee has just completed his climb to the top of the pack for the second time this year, besting a field of 365 runners to take the only razz bracelet in the display case. Kassela is your champion of Event #40, and this $2,500 Razz event pays him nearly a quarter-million dollars along with a bracelet to go on his other wrist.
Kassela came into the final table third in chips, one spot behind eventual runner-up Maxwell Troy. The two men picked their spots carefully, and some twelve hours after play began on Day 3, they were heads up for the title. The battle was a long one; it's always a grind to close out a short-handed razz table. Kassela finally started to gain some momentum as the increasing antes and limits forced the play, though, and he was able to close out Troy just before the clock struck five in the morning.
It should be noted, for all you short-stack ninjas out there, that Kassela was a long way away from this spot at the end of Day 1. He bagged up just 5,100 chips on Monday night, putting him in 105th position out of 105 returning players. No matter for him though; Kassela had a great Day 2, and he was able to put himself into a position to win during the early stages of this Day 3.
Frank Kassela is the toast of the town tonight, and his accomplishment is one of the highlights of the WSOP thus far. We send him our congratulations on another fine run this summer, and he's still got a few events to try and put him in the elite tier of triple bracelet winners.
That's all we have for you tonight, but we'll be talking about this one for a long time to come. Until the next one, goodnight and good morning from the Rio!