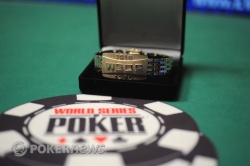 Three days of poker just wasn't enough for these guys, and nine of them have decided to come back today for one more session before we put the closing stamp on Event #55.
This $10,000 Pot-Limit Omaha World Championship began on Thursday with an impressive 346 runners taking their seats. It was scheduled for three days, but the super-sized field prevented the Day 3 remainders from settling the score in a timely fashion. We've still got nine players left for this bonus session, and the deep stacks foreshadow one more potentially long day of poker.
We're posting some quick player bios for you as we speak, and you have about a half hour to get yourselves familiar with these nine men, one of whom will take home the penultimate bracelet of this 2010 WSOP. We're scheduled for a 4:00 p.m. start, and we'll be back as soon as there are some signs of activity over here in the Amazon Room.