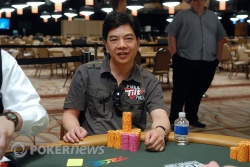 Welcome back for Event No. 7: $2,500 2-7 Triple Draw Lowball. A few days ago, the field began with 291 players. Since then, it's been whittled all the way down to just eight players. Here's how the final eight players stack up.
Pro David Chiu has the chip lead, but Peter Gelencser isn't too far behind. Chiu is the most decorated player at the final table with over $6.7 million in lifetime winnings and four WSOP gold bracelets. With his experience and the chip lead, it's Chiu's event to win right now.
Raphael Zimmerman is still in the field as well and has a solid amount of experience in mixed-game tournaments. Last year, Zimmerman placed sixth in the 2-7 Lowball event that Phil Ivey won. Leonard Martin is coming back today as well and has $147,000 in career earnings that all come from limit events. Martin took second place in the $1,000 Limit 2-7 Triple Draw Lowball back in 2007 so he's definitely going to be a threat today. We can't forget about Tad Jurgens either. He's got over $625,000 in career earnings, multiple WSOP cashes and numerous final tables on his resume.
Here's how the final eight stack up.
Table 310
Seat 1: David Chiu - 436,000
Seat 2: Shunjiro Uchida - 173,000
Seat 3: Peter Gelencser - 400,000
Seat 4: Don McNamara - 370,000
Table 312
Seat 1: Leonard Martin - 195,000
Seat 2: Jameson Painter - 127,000
Seat 3: Raphael Zimmerman - 262,000
Seat 4: Tad Jurgens - 223,000