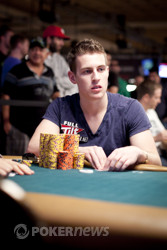 Back at the end of May, PokerNews featured a series of article called the "2011 WSOP Rookie Roundup" that gave some bold predictions as to what rookies we thought would make themselves known this summer. One of those articles featured Michael "Timex" McDonald, who is alive and well in out event. If you don't know much about Timex, we suggest you read our Rookie Roundup piece, which we've included below:
At first glance, it's easy to pigeonhole Mike McDonald into the familiar mold of the young online poker player. He is 21 but could pass for 16 if need be. He's sharp and well-spoken but still a little bit awkward in social situations. His complexion is that of a librarian or a chemistry teacher. He talks fast, doubling-back and stumbling over words here and there as he calculates his next thought. He speaks in rapid, measured bursts of knowledge and statistics. And he has made a lot of money playing online poker.
Upon closer examination, though, McDonald doesn't fit quite so perfectly into that square hole of the penthouse-dwelling online recluses. In contrast to many of his peers, McDonald is grounded and noticeably mature for his age. As he's progressed through his poker career, he's proved to be well-rounded and has shown an ability to use long-term forethought that sets him apart from those with whom he shares space on the felt.
Since he was just a kid in Waterloo, Ontario, Canada, McDonald has naturally gravitated toward numbers and logic. He played and taught chess as a teen, and a summer math camp sparked his interest in poker for the first time. The little $2 games among 14-year-olds eventually grew to a $100 deposit in an online poker site. The Moneymaker ripple was just reaching its peak, and McDonald managed to get the better of most of his opponents over the next three years. He went on to build a million-dollar name for himself as "Timex," one of the up-and-coming stars of online poker. CardRunners hired him to teach video lessons for its site, and Full Tilt Poker eventually absorbed him into its pool of Red Pros. But Timex felt the itch to shuffle chips, too, which meant leaving the continent to chase foreign money.
His first live cash came in Europe at EPT Prague in 2007. It was a deep run, too, a 14th-place showing from a field of 555. His next EPT event was just a month later in Dortmund, and he binked it, as they say, for a quick $1.37 million to become the youngest EPT champion at just 18. He even racked up three cashes for more than $100,000 at the Aussie Millions in between those two EPTs. Just like that, McDonald was up seven figures in the first month of his live career. (And, as an aside, when's the last time you've seen someone with braces in a trophy photo?) He's continued to bolster his resume in the meantime with an amazing repeat final table at EPT Dortmund in 2008, a victory in a $1,000 side event at the PokerStars Caribbean Adventure in 2010, and another EPT final table in Deauville later that same month. Twice now, McDonald has come tantalizingly close to becoming the tour's first (and only) repeat champion, ending up in fifth and third places, respectively.
All told, Timex has racked up three major tournament wins, a career's worth of final tables, and he's already closing in on $3 million in live earnings.
In early 2010, McDonald announced through his blog that he was taking time away from the game -- a complete shocker at the time. The poker media swarmed with overreactions as people took his words with absolute finality. But it wasn't as drastic as it sounded. McDonald has gone on to refine that perception with follow-up posts and more-limited tournament appearances in the last year, but he continues to seek satisfaction away from the tables, too. If you spend any time trying to talk about poker with Timex, you'll quickly see that his perception and his outlook are unique among his peers. The bad-beat stories are conspicuously absent. He considers himself extremely lucky to be in the right place at the right time and seems to understand the fleeting nature of the game.
In his "time off," McDonald has gone back to school for business at Wilfrid Laurier University in his hometown. He's been playing sports and lifting weights and dabbling in a couple of different business ventures for good measure. With a successful poker career already checked off his bucket list at a young age, McDonald often talks about his desire to fill his time with exciting, meaningful ventures away from the table, too. Life, like his poker career, is pretty much paid for already.
McDonald's live tournament stats read like an atlas with cashes all over the world -- except for the U.S. That's likely to change over the next two months, however, when Timex takes on the fields of the World Series of Poker for the first time. He tells PokerNews he plans on playing about 25 events with a big focus on the Main Event in July. Even with nonpoker interests dividing his energy, there's no question where his focus is going to be this summer. "After feeling comfortable playing the highest-stakes tournaments for over five years," he says, "I've been waiting a long time to play the WSOP, and I really want to make a few deep runs."
In both life and in poker, McDonald is capable and calculating, and he seems to always be able to find an out. And for someone who is only 21, he has as much experience playing in televised, high-pressure situations as anyone we can think of. With McDonald, as much as with anyone, it seems a question of "when" rather than "if" he'll win a bracelet. If his hot start in Europe is any foreshadowing, this year could well be the year he breaks through on the American poker scene.