With the cards now hitting the air, we will be playing out the final 20-minutes of level nine.
Level:

9
Blinds:

300/600
Ante:

75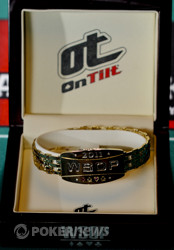 Welcome back to the Rio All-Suite Hotel & Casino and the 2011 World Series of Poker for Day 2 of the Event #8: $1,000 No-Limit Hold'em.
Over the first two days, 4,178 players took to the felt to form a prizepool of $3,760,200 with the top 423 players all receiving a guaranteed $1,880 payday.
623 players remain, and with plenty of short stacks, action is going to be fast and furious as players jostle for position on the leaderboard. Charles Sewell is currently the top dog with an amassed 137,350 in chips, but he will have to be careful of many highly-talented players left such as Jon Turner (99,200), Albert Kim (74,675), Jason Koon (73,075) and John Eames (70,250) who are all in the top ten.
The PokerNews Live Reporting Team will again be on the floor providing comprehensive live updates from 2:30 pm PDT, so make sure to stay tuned to PokerNews.com as we write the story of the upcoming Event #8 Champion.
Here is the table and seat draw for Day 2 of Event #8: $1,000 No-Limit Hold'em. Yes, we know there are a few random assignments, but this is the list as we received it from the World Series of Poker staff.
| Table | Seat | Player | Chips |
| --- | --- | --- | --- |
| 234 | 1 | Ly Le | 12,075 |
| | | | |
| 249 | 2 | Gerald Irwin | 25,750 |
| | | | |
| 254 | 2 | Philip Collins | 45,875 |
| | | | |
| 276 | 1 | Sean Getzwiller | 28,000 |
| 276 | 3 | John Fenton | 21,425 |
| 276 | 4 | John Droutsas | 90,602 |
| 276 | 5 | Guillaume Frechette | 26,100 |
| 276 | 6 | Sean Doyle | 28,050 |
| 276 | 7 | Tyler Brackey | 16,550 |
| 276 | 8 | Craig Rombough | 11,075 |
| 276 | 9 | Peter Hotaling | 11,175 |
| | | | |
| 277 | 1 | Tyler Martin | 14,825 |
| 277 | 3 | Michael Eckstut | 20,975 |
| 277 | 4 | Stanley Yanovak | 11,975 |
| 277 | 5 | Richard Duran | 16,500 |
| 277 | 6 | Ken Kao | 12,600 |
| 277 | 7 | Tom Hron | 6,850 |
| 277 | 8 | Corina Lupascu | 19,325 |
| 277 | 9 | Jeff Oakes | 38,650 |
| | | | |
| 278 | 1 | Mackenzie Molner | 35,725 |
| 278 | 2 | Steven Burkholder | 19,825 |
| 278 | 3 | Ryan Skalsky | 40,500 |
| 278 | 5 | Michael Myren | 38,025 |
| 278 | 6 | Loretta Cabrera | 7,725 |
| 278 | 7 | Casey Long | 21,025 |
| 278 | 8 | Cameron Mckinley | 32,050 |
| 278 | 9 | Robert Lipkin | 19,700 |
| | | | |
| 279 | 1 | Andrew Brongo | 36,000 |
| 279 | 2 | Francis Cagney | 32,650 |
| 279 | 3 | Peter Smurfit | 4,525 |
| 279 | 4 | Shawn Smith | 41,300 |
| 279 | 5 | John Wozniak | 7,500 |
| 279 | 6 | Harry Skloot | 4,800 |
| 279 | 7 | Michael McClain | 19,400 |
| 279 | 9 | Francis Favis | 21,725 |
| | | | |
| 280 | 1 | Dan Heimiller | 11,725 |
| 280 | 2 | Jaime Herrera | 46,775 |
| 280 | 3 | Randall Butler | 5,800 |
| 280 | 4 | Daryle Bourque | 15,800 |
| 280 | 5 | Andrea Mcnew | 12,725 |
| 280 | 6 | Gregory Abdo | 31,775 |
| 280 | 7 | Ray Johnston | 10,550 |
| 280 | 8 | Michael Hlavaty | 35,325 |
| 280 | 9 | Josef Karacsonyi | 7,575 |
| | | | |
| 282 | 1 | David Hong | 14,275 |
| 282 | 2 | Ryan Gentry | 12,750 |
| 282 | 3 | Marcus Mizzi | 27,900 |
| 282 | 4 | Jason Mencher | 24,525 |
| 282 | 5 | Quoc Diep | 17,525 |
| 282 | 6 | Jarrad Reynolds | 6,800 |
| 282 | 7 | Ian Nelson | 3,525 |
| 282 | 8 | Michael Carroll | 32,900 |
| 282 | 9 | Jesse Ashton | 19,000 |
| | | | |
| 283 | 1 | Peter Nowak | 28,850 |
| 283 | 2 | Suriyan Bhinestien | 34,750 |
| 283 | 3 | Roy Shimada | 11,375 |
| 283 | 4 | Kyle Speake | 20,950 |
| 283 | 5 | Adam Johnson | 12,500 |
| 283 | 6 | Justin Truesdell | 15,375 |
| 283 | 7 | Alan Gould | 29,475 |
| 283 | 8 | Christopher Goggin | 16,325 |
| 283 | 9 | Tobias Laubert | 18,350 |
| | | | |
| 284 | 1 | Tom Braband | 36,525 |
| 284 | 2 | Jovan Sudar | 17,650 |
| 284 | 3 | Travell Thomas | 22,285 |
| 284 | 4 | Craig Macfarlane | 13,025 |
| 284 | 5 | Paul Kiem | 10,375 |
| 284 | 6 | Brent Roberts | 18,075 |
| 284 | 7 | Robert Varkonyi | 11,800 |
| 284 | 8 | Anthony Reis | 14,000 |
| 284 | 9 | Lawrence Riley | DNR |
| | | | |
| 285 | 1 | Michael Malm | 65,975 |
| 285 | 2 | Greg Body | 7,125 |
| 285 | 3 | Samantha Cohen | 24,675 |
| 285 | 4 | Dany Giguere | 9,850 |
| 285 | 5 | Harold Isip | 15,725 |
| 285 | 6 | Tim Kahlmeyer | 7,750 |
| 285 | 7 | Scott Ungren | 4,475 |
| 285 | 8 | Konstantin Klimenkov | 16,675 |
| 285 | 9 | Jonathan Tare | 15,475 |
| | | | |
| 286 | 1 | Jaime Rascon | 3,275 |
| 286 | 2 | Ronald Burns | 32,875 |
| 286 | 3 | Ethan Foulkes | 43,500 |
| 286 | 4 | Joseph Luht | 10,875 |
| 286 | 5 | Nicholas Kamen | 47,675 |
| 286 | 6 | Michael Michnik | 8,475 |
| 286 | 7 | Anthony Moses | 16,450 |
| 286 | 8 | David Dowdy | 38,025 |
| 286 | 9 | Dan McGuire | 10,975 |
| | | | |
| 288 | 1 | Blair Lyons | 11,725 |
| 288 | 2 | Bryan Quenaud | 30,400 |
| 288 | 3 | Jackson Su | 6,800 |
| 288 | 4 | Kara Tobin | 15,625 |
| 288 | 5 | Abel Saiz | 19,800 |
| 288 | 6 | Nick Guagenti | 23,500 |
| 288 | 7 | Mehrdad Yousefzadeh | 39,025 |
| 288 | 8 | James Passavant | 12,500 |
| 288 | 9 | Sean Picquelle | 36,975 |
| | | | |
| 289 | 1 | Bryn Kenney | 34,125 |
| 289 | 2 | Samuel Bailey | 12,900 |
| 289 | 3 | Jeffery Badertscher | 8,525 |
| 289 | 4 | Jeffrey Vanchiro | 45,600 |
| 289 | 5 | Arnold Spee | 17,750 |
| 289 | 6 | William Heimiller | 22,675 |
| 289 | 7 | Raul Bravo | 4,200 |
| 289 | 8 | Ricky Fohrenbach | 28,050 |
| 289 | 9 | David Dietz | 15,100 |
| | | | |
| 290 | 1 | Kris Hawkins | 10,195 |
| 290 | 2 | Gerald Paterson | 2,525 |
| 290 | 3 | Andrew Weisner | 24,350 |
| 290 | 4 | Kim Frederiksen | 27,275 |
| 290 | 5 | Scott Dorin | 23,000 |
| 290 | 6 | Paul Netto | 12,675 |
| 290 | 7 | Charles Spencer | 5,875 |
| 290 | 8 | Joseph Insinna | 17,350 |
| 290 | 9 | Benjamin Palmer | 24,325 |
| | | | |
| 291 | 1 | Stefan Raffay | 6,400 |
| 291 | 2 | Brian Niekerk | 7,825 |
| 291 | 3 | Fernando Ortiz | 12,575 |
| 291 | 4 | Leonard Gerrits | 38,450 |
| 291 | 5 | Sascha Pietrowski | 28,475 |
| 291 | 6 | Nick Gibson | 23,625 |
| 291 | 7 | Hai Le | 6,675 |
| 291 | 8 | David Phillips | 15,450 |
| 291 | 9 | Christoph Lovett | 22,950 |
| | | | |
| 292 | 1 | Brett Schwertley | 27,325 |
| 292 | 2 | Geary Madison | 10,600 |
| 292 | 3 | Mahir Cengil | 18,375 |
| 292 | 4 | Ronald Cooper | 24,400 |
| 292 | 5 | Robert Tanniru | 59,325 |
| 292 | 6 | Jon Turner | 99,200 |
| 292 | 7 | Gary Goad | 38,975 |
| 292 | 8 | Darryll Fish | 26,850 |
| 292 | 9 | Charles Moore | 34,200 |
| | | | |
| 294 | 1 | Alexey Yuzikov | 8,475 |
| 294 | 2 | Miguel Borrero | 17,500 |
| 294 | 3 | Tyler Noyes | 19,800 |
| 294 | 4 | Timothy Milliron | 13,875 |
| 294 | 5 | Guy Lepage | 5,925 |
| 294 | 6 | David Ventura | 2,875 |
| 294 | 7 | Frank Calo | 26,275 |
| 294 | 8 | Kenneth Nay | 16,525 |
| 294 | 9 | Charles Strickler | 9,100 |
| | | | |
| 295 | 1 | Anthony Wrobel | 10,075 |
| 295 | 2 | Kyle Bowker | 15,000 |
| 295 | 3 | DID NOT REPORT | 57,200 |
| 295 | 4 | Michael Schwartz | 35,850 |
| 295 | 5 | Andrew Stott | 31,950 |
| 295 | 6 | Robert Bradley | 18,550 |
| 295 | 7 | Josee Tremblay | 6,425 |
| 295 | 8 | Matt Klinect | 10,175 |
| 295 | 9 | John Gordon | 15,950 |
| | | | |
| 296 | 1 | Michael Fisher | 16,625 |
| 296 | 2 | Brandon Shane | 38,700 |
| 296 | 3 | Steven Howchin | 8,100 |
| 296 | 4 | Brian Schmidt | 30,900 |
| 296 | 5 | Hoa Nguyen | 30,600 |
| 296 | 6 | Robert Routledge | 24,375 |
| 296 | 7 | Tony Gambetta | 16,925 |
| 296 | 8 | Adam Lippert | 63,200 |
| 296 | 9 | Viacheslav Fentisov | 10,950 |
| | | | |
| 297 | 1 | Shane Schleger | 41,300 |
| 297 | 2 | Evgeny Shnayder | 10,500 |
| 297 | 3 | Zachary King | 21,100 |
| 297 | 4 | Matthew Haugen | 16,300 |
| 297 | 5 | Edward Wilson | 11,500 |
| 297 | 6 | Phyllis Hames | 22,650 |
| 297 | 7 | David Chicotsky | 38,725 |
| 297 | 8 | Vanja Ovuka | 7,950 |
| 297 | 9 | Katherine Lederer | 12,500 |
| | | | |
| 298 | 1 | James Buckley | 38,300 |
| 298 | 2 | Teodor Bally | 21,000 |
| 298 | 3 | George Bill | 9,175 |
| 298 | 4 | Timm Rahmberg | 30,550 |
| 298 | 5 | Jeffrey Lande | 22,550 |
| 298 | 6 | Robert Boynton | 8,275 |
| 298 | 7 | David Plastik | 18,050 |
| 298 | 8 | Kenneth Ulickey | 26,450 |
| 298 | 9 | An Tran | 7,150 |
| | | | |
| 324 | 2 | Matthew Pang | 35,125 |
| 324 | 3 | Jessie Bryant | 25,475 |
| 324 | 4 | Trond Aanensen | 31,225 |
| 324 | 5 | James Lamatrice | 9,975 |
| 324 | 6 | Glen Nguyen | 12,975 |
| 324 | 7 | John Lewis | 21,950 |
| 324 | 8 | Jonathan Krela | 25,100 |
| 324 | 9 | Anthony Ruberto | 8,150 |
| | | | |
| 325 | 1 | K.U. Davis | 9,725 |
| 325 | 2 | Michael Pesek | 34,825 |
| 325 | 3 | Jamison Town | 29,700 |
| 325 | 4 | Peter Gelencser | 11,350 |
| 325 | 5 | Jonathan Gamerov | 23,750 |
| 325 | 6 | David Pfeffen | 8,650 |
| 325 | 7 | Robert Vaghefi | 28,550 |
| 325 | 8 | Chase Olsen | 14,925 |
| 325 | 9 | Ting Xiao | 34,950 |
| | | | |
| 326 | 1 | Gladys Landegger | 21,350 |
| 326 | 2 | Oliver Gill Gaber | 16,250 |
| 326 | 3 | Reed Hensel | 10,400 |
| 326 | 4 | David Gutfreund | 8,200 |
| 326 | 5 | David Peters | 33,050 |
| 326 | 6 | Lacey Jones | 17,425 |
| 326 | 7 | Mark Maletic | 20,725 |
| 326 | 8 | Jeffery Warren | 6,150 |
| 326 | 9 | David Barraclough | 14,050 |
| | | | |
| 327 | 1 | Robert Kim | 26,025 |
| 327 | 2 | Min Ku | 10,725 |
| 327 | 3 | Martin Schulte | 1,450 |
| 327 | 4 | Leland Neal | 12,525 |
| 327 | 5 | Michael Baxter | 16,750 |
| 327 | 6 | Brent Sheirbon | 13,200 |
| 327 | 7 | Robert Brobst | DNR |
| 327 | 8 | John Bianes | 31,550 |
| 327 | 9 | Tyler Patterson | 27,650 |
| | | | |
| 328 | 1 | Damien Roman | 16,600 |
| 328 | 2 | Brandon Ho | 6,800 |
| 328 | 3 | Hieu "Tony" Ma | 12,375 |
| 328 | 4 | Charles Hoffman | 29,300 |
| 328 | 5 | David Diaz | 25,850 |
| 328 | 6 | Stephen Pietropaula | 13,975 |
| 328 | 8 | Donald Forshey | 20,275 |
| 328 | 9 | Chad Brown | 14,275 |
| | | | |
| 329 | 1 | DID NOT REPORT | 61,650 |
| 329 | 2 | Denis Gnidash | 58,575 |
| 329 | 3 | Russell Bonner | 27,750 |
| 329 | 4 | Chase Johnson | 29,125 |
| 329 | 5 | Thomas Henry | 9,825 |
| 329 | 6 | Franco Cupello | 17,050 |
| 329 | 7 | Jacob Bazeley | 41,075 |
| 329 | 8 | Stan Jablonski | 21,725 |
| 329 | 9 | Logan Raskin | 22,000 |
| | | | |
| 330 | 1 | Victor Hoffman | 10,609 |
| 330 | 2 | Daniel Wojcik | 16,225 |
| 330 | 3 | Wolfram Scherer | 7,425 |
| 330 | 4 | Benjamin Schessler | 8,200 |
| 330 | 5 | Fred Boatman | 7,750 |
| 330 | 6 | Jason Koon | 73,075 |
| 330 | 7 | Dave Sims | 4,625 |
| 330 | 8 | Boris Kreiman | 10,425 |
| 330 | 9 | Valerie Cross | 19,000 |
| | | | |
| 331 | 1 | David Rood | 36,025 |
| 331 | 2 | James Polk | 6,000 |
| 331 | 3 | Joshua Novak | 9,550 |
| 331 | 4 | Blake Robbins | 20,750 |
| 331 | 5 | Corey Emery | 20,450 |
| 331 | 6 | Scott Geiger | 17,200 |
| 331 | 7 | Sergey Pevzner | 19,325 |
| 331 | 8 | Stephen Ladowsky | 11,350 |
| 331 | 9 | Evgeni Tourevski | 3,550 |
| | | | |
| 332 | 1 | Tanios Abi-Yaghi | 8,750 |
| 332 | 2 | Gabriel Rouleau | 27,850 |
| 332 | 3 | Ryan Milisits | 20,600 |
| 332 | 4 | James Kalcheim | 8,200 |
| 332 | 5 | Michael Trujillo | 49,850 |
| 332 | 6 | Casey Miller | 31,300 |
| 332 | 7 | Toros Markarian | 9,425 |
| 332 | 8 | Lingling Teng | 10,700 |
| 332 | 9 | Amanda Musumeci | 13,400 |
| | | | |
| 333 | 1 | Eric Piderit | 20,575 |
| 333 | 2 | Eugene Kim | 57,225 |
| 333 | 3 | Jeremiah Degreef | 49,600 |
| 333 | 4 | Timothy Schlink | 13,150 |
| 333 | 5 | Thomas Conway | 41,175 |
| 333 | 6 | Bryce Yockey | 26,550 |
| 333 | 7 | Michael Atkinson | 8,175 |
| 333 | 8 | Josh Neufeld | 7,400 |
| 333 | 9 | Lawrence Bieza | 20,950 |
| | | | |
| 334 | 1 | Max Casal | 15,900 |
| 334 | 2 | Kathy Liebert | 26,550 |
| 334 | 3 | Stuart Marshak | 17,175 |
| 334 | 4 | Valdemar Kwaysser | 13,875 |
| 334 | 5 | Joseph Zeman | 11,800 |
| 334 | 6 | Tage Larsson | 29,125 |
| 334 | 7 | Robert Smith | 20,375 |
| 334 | 8 | Kevin Mount | 6,075 |
| 334 | 9 | Hans Bosman | 8,300 |
| | | | |
| 335 | 1 | James Hughes | 47,750 |
| 335 | 2 | Raymond Brown | 7,075 |
| 335 | 3 | John Goveia | 3,850 |
| 335 | 4 | Conor Fennell | 39,825 |
| 335 | 5 | Lance Craig | 6,625 |
| 335 | 6 | Brendan Casey | 9,075 |
| 335 | 7 | Eric Samuelian | 8,775 |
| 335 | 8 | John John | 36,600 |
| 335 | 9 | Thahir Omar | 7,900 |
| | | | |
| 336 | 1 | Matthias Preuss | 17,300 |
| 336 | 2 | Raymond Saide | 7,150 |
| 336 | 3 | Pedro Cabeca | 19,875 |
| 336 | 4 | Beinan Liu | 10,225 |
| 336 | 5 | Christopher Schussman | 8,475 |
| 336 | 6 | Kim Bohnet | 15,950 |
| 336 | 7 | Daniel Chiti | 26,725 |
| 336 | 8 | Philip Wolf | 23,525 |
| 336 | 9 | Michael Brady | 10,000 |
| | | | |
| 337 | 1 | Mike Atkinson | 16,125 |
| 337 | 2 | Anthony Nardi | 18,700 |
| 337 | 3 | Patrick Arena | 18,700 |
| 337 | 4 | Michael Trahan | 10,700 |
| 337 | 5 | Jack Ernest Ward | 18,450 |
| 337 | 6 | Ricky Welch | 30,600 |
| 337 | 7 | Brian Foote | 10,125 |
| 337 | 8 | Dan Hutchison | 11,825 |
| 337 | 9 | Eric Mizrachi | 21,550 |
| | | | |
| 338 | 1 | Hunter Frey | 61,200 |
| 338 | 2 | Angela Wells | 27,625 |
| 338 | 3 | Brian Wong | 12,650 |
| 338 | 4 | Robert Polk | 5,225 |
| 338 | 5 | Jonathan Gerrick | 13,750 |
| 338 | 6 | Robert Wazelle | 16,875 |
| 338 | 7 | Kevin Dillon | 13,475 |
| 338 | 8 | Lynn Franklin | 3,775 |
| 338 | 9 | Joseph Cordi | 11,475 |
| | | | |
| 339 | 1 | Wallace Reinhardt | 13,825 |
| 339 | 2 | Justin Taylor | 10,850 |
| 339 | 3 | Krysztof Stybaniewicz | 10,300 |
| 339 | 4 | Daniel Haglund | 14,325 |
| 339 | 5 | Vongduane Sengseevong | DNR |
| 339 | 6 | Guowei Zhang | 8,025 |
| 339 | 7 | Bobby Hempkins | 8,525 |
| 339 | 8 | Shane Sigsbee | 8,975 |
| 339 | 9 | Alex Dederer | 17,550 |
| | | | |
| 340 | 1 | Todd Rebello | 20,575 |
| 340 | 2 | Erik Haakenson | 15,775 |
| 340 | 3 | Dan Lu | 14,800 |
| 340 | 4 | Taemee Feuer | 5,550 |
| 340 | 5 | Jared Hemingway | 11,750 |
| 340 | 6 | Layne Flack | 37,575 |
| 340 | 7 | Xiamei Zuo | 15,625 |
| 340 | 8 | Christopher Webb | 11,275 |
| 340 | 9 | David Gee | 18,500 |
| | | | |
| 341 | 1 | Mihai Manole | 17,825 |
| 341 | 2 | Edward Espino | 22,375 |
| 341 | 3 | Brian Essenter | 12,700 |
| 341 | 4 | Sunny Chattha | 13,700 |
| 341 | 5 | Alexander Kravchenko | 37,025 |
| 341 | 6 | Antonio Traniello | 8,600 |
| 341 | 7 | Gilbert Diaz | 31,375 |
| 341 | 8 | Scott Stewart | 25,650 |
| 341 | 9 | Haresh Jethani | 23,575 |
| | | | |
| 342 | 1 | Hal Rotholz | 4,100 |
| 342 | 2 | Marios Savvides | 37,575 |
| 342 | 3 | Evgeny Vaag | 3,000 |
| 342 | 4 | Jeff Yamamoto | 5,675 |
| 342 | 5 | Theodore Cohn | 16,150 |
| 342 | 6 | Max Weinberg | 27,750 |
| 342 | 7 | Randall Bonnett | 5,800 |
| 342 | 8 | Chris Podlewski | 17,350 |
| 342 | 9 | Robert Lewis | 9,650 |
| | | | |
| 343 | 1 | Vitaly Lunkin | 13,125 |
| 343 | 2 | Samuel Phillips | 17,750 |
| 343 | 3 | George Saca | 13,075 |
| 343 | 4 | Gavin Griffin | 38,050 |
| 343 | 5 | Steven van Zadelhoff | 51,000 |
| 343 | 6 | Richard Markgraf | 23,975 |
| 343 | 7 | Stuart Krasney | 23,775 |
| 343 | 8 | Jason Vanstrom | 6,050 |
| 343 | 9 | Phat Nuon | 18,525 |
| | | | |
| 344 | 1 | Joseph Ward | 23,325 |
| 344 | 2 | Annette Obrestad | 38,100 |
| 344 | 3 | Judith Sandok | 12,500 |
| 344 | 4 | Sergey Petrov | 16,675 |
| 344 | 5 | Michael Frazin | 8,725 |
| 344 | 6 | Edwin Bounds | 5,350 |
| 344 | 7 | Jendrik Faulhaber | 5,300 |
| 344 | 8 | Raymond Merz | 17,125 |
| 344 | 9 | Evins Cherfils | 12,650 |
| | | | |
| 345 | 1 | Kenny Nguyen | 46,500 |
| 345 | 2 | Dominic Bao | 26,600 |
| 345 | 3 | David Feldman | 8,425 |
| 345 | 4 | Jonathan Zarin | 33,575 |
| 345 | 5 | Alex Madriaga | 6,425 |
| 345 | 6 | William Myers | 14,925 |
| 345 | 7 | Nakia Clark | 14,150 |
| 345 | 8 | Phillip Dagger | 17,800 |
| 345 | 9 | Clive Cabral | 4,050 |
| | | | |
| 346 | 1 | Trevor Klassen | 26,600 |
| 346 | 2 | Conrad Monica | 30,475 |
| 346 | 3 | Gregg Merkow | 32,100 |
| 346 | 4 | Dana Hecker | 8,850 |
| 346 | 5 | John Phan | 4,825 |
| 346 | 6 | William Wade | 3,225 |
| 346 | 7 | Nathaniel Wachtel | 8,950 |
| 346 | 9 | Jordan Simoneau | 3,775 |
| | | | |
| 347 | 1 | Mark Miller | 10,275 |
| 347 | 3 | Nathan Aronoff | 17,475 |
| 347 | 4 | Kyle Lodes | 13,275 |
| 347 | 5 | Thomas Besnier | 18,550 |
| 347 | 6 | Quan Nguyen | 11,700 |
| 347 | 7 | Ernest Ignacio | 9,925 |
| 347 | 8 | John Hom | 17,600 |
| 347 | 9 | Daniel Neilson | 23,075 |
| | | | |
| 348 | 1 | Richard Monroe | 18,150 |
| 348 | 2 | Todd Cormier | 14,225 |
| 348 | 3 | Francois Sfeir | DNR |
| 348 | 4 | Scott Augustine | 11,700 |
| 348 | 5 | Stefan Bressler | 4,300 |
| 348 | 7 | Odette Tremblay | 38,075 |
| 348 | 8 | Michael Larimer | 20,400 |
| 348 | 9 | Douglas Howland | 11,025 |
| | | | |
| 349 | 1 | Darin Haddock | 30,850 |
| 349 | 3 | Alexander Kim | 11,200 |
| 349 | 5 | Chad Winters | 20,125 |
| 349 | 6 | Tom McCormick | 38,750 |
| 349 | 7 | Jon Eaton | 9,125 |
| 349 | 8 | Mark Abele | 22,525 |
| 349 | 9 | Pratyush Buddiga | 9,200 |
| | | | |
| 350 | 1 | Young Phan | 15,525 |
| 350 | 3 | Shaun Hendrickson | 36,325 |
| 350 | 4 | Kirill Rabtsov | 33,650 |
| 350 | 5 | Robbie Verspui | 8,325 |
| 350 | 6 | Raymond Szu | 4,075 |
| 350 | 7 | Jessica Bruens | 8,650 |
| 350 | 8 | Brian Maguire | 9,425 |
| 350 | 9 | Joshua Seigel | 18,450 |
| | | | |
| 351 | 1 | Arthur Lim | 22,175 |
| 351 | 2 | Chang-Hau Huang | 7,575 |
| 351 | 3 | Michael Mueller | 10,575 |
| 351 | 4 | Vincent Insalaco | 46,125 |
| 351 | 5 | Jerry Morales | 9,975 |
| 351 | 7 | Joshua Pitts | 10,325 |
| 351 | 8 | Matthew Hughes | 39,025 |
| 351 | 9 | Mark Schmid | 60,425 |
| | | | |
| 352 | 1 | Kelly Webb | 14,250 |
| 352 | 3 | Ana Marquez Esteban | 59,375 |
| 352 | 4 | John Farley | 14,050 |
| 352 | 5 | Richard Lee | 21,450 |
| 352 | 6 | Terence Rickert | 18,075 |
| 352 | 7 | Con Tsapkounis | 7,750 |
| 352 | 8 | Richard Ellis | 31,975 |
| 352 | 9 | In Sun Geoum | 15,525 |
| | | | |
| 353 | 1 | Jeffrey Gross | 11,100 |
| 353 | 2 | Joshua Field | 6,100 |
| 353 | 3 | Jeff Dumas | 5,100 |
| 353 | 5 | Brandon Steven | 29,675 |
| 353 | 6 | Frank Echols | 2,125 |
| 353 | 7 | David Tran | 35,950 |
| 353 | 8 | Ryan Kun | 20,650 |
| 353 | 9 | Nick Jivkov | 7,275 |
| | | | |
| 354 | 1 | Vittario Iemolo | 10,475 |
| 354 | 3 | Edmund Liu | 10,075 |
| 354 | 4 | WeiKai Chang | 22,075 |
| 354 | 5 | Daryl Aguirre | 42,275 |
| 354 | 6 | William Mietz | 8,700 |
| 354 | 7 | Howard Connell | 31,425 |
| 354 | 8 | Ylon Schwartz | 10,300 |
| 354 | 9 | Timothy Sheehan | 40,000 |
| | | | |
| 355 | 1 | Randall Brueckner | 33,375 |
| 355 | 2 | Noah Bronstein | 39,500 |
| 355 | 3 | Frank Schram | 15,500 |
| 355 | 4 | Daniel Sellam | 15,050 |
| 355 | 5 | Steven Liebenthal | 8,125 |
| 355 | 6 | Charles Sewell | 137,350 |
| 355 | 7 | Brandon Wong | 17,450 |
| 355 | 8 | William Cai | 36,550 |
| 355 | 9 | David Funkhouser | 27,650 |
| | | | |
| 356 | 1 | Joshua Hillock | 43,250 |
| 356 | 2 | Larry Rogers | 6,300 |
| 356 | 3 | Chris Westergard | 2,750 |
| 356 | 4 | Danny Lindsey | 10,650 |
| 356 | 5 | John Zelasko | 28,525 |
| 356 | 6 | Isaac Settle | 13,575 |
| 356 | 7 | Kevin McColgan | 16,450 |
| 356 | 8 | Ha Diep | 7,175 |
| 356 | 9 | Cindy Stenbeck | 9,575 |
| | | | |
| 357 | 1 | Chris Wong | 14,550 |
| 357 | 2 | Yannick Tessier | 6,475 |
| 357 | 3 | Athipoo Phahurat | 29,100 |
| 357 | 4 | Thung Huynh | 13,100 |
| 357 | 5 | Vincent Rubianes | 28,250 |
| 357 | 6 | Casey Perez | 4,400 |
| 357 | 7 | Mark Davidoff | 10,075 |
| 357 | 8 | Quang Tran | 26,450 |
| 357 | 9 | Christopher Hyden | 2,700 |
| | | | |
| 358 | 1 | Preecha Taepakdee | 48,975 |
| 358 | 2 | Marc Macdonnell | 18,375 |
| 358 | 3 | Jussi Jaatinen | 16,875 |
| 358 | 4 | James Conrad | 8,100 |
| 358 | 5 | Tristan Clemencon | 21,825 |
| 358 | 6 | Arthur Kats | 13,700 |
| 358 | 7 | Jonathan Driscoll | 48,550 |
| 358 | 8 | Dorman Atchison | 14,025 |
| 358 | 9 | Eric Appel | 37,025 |
| | | | |
| 359 | 1 | Jonathan Sherfy | 21,025 |
| 359 | 2 | Kurt Fitzgerald | 9,025 |
| 359 | 3 | E Burke Anderson | 31,700 |
| 359 | 4 | Ashar Khaliq | 7,875 |
| 359 | 5 | Jeffrey Nordrum | 18,075 |
| 359 | 6 | Jason Cooper | 6,875 |
| 359 | 7 | Alan Myerson | 34,100 |
| 359 | 8 | Ardit Kurshumi | 7,675 |
| 359 | 9 | Andrew Brussard | 35,100 |
| | | | |
| 360 | 1 | Bradley Lubetkin | 10,200 |
| 360 | 2 | Matthew Mueller | 20,600 |
| 360 | 3 | David Kozma | 12,450 |
| 360 | 4 | Jeffrey Lennon | 23,975 |
| 360 | 5 | Chris Moore | 34,675 |
| 360 | 6 | Tom Brownscombe | 17,825 |
| 360 | 7 | Eric Yates | 7,875 |
| 360 | 8 | Ryan Israel | 18,850 |
| 360 | 9 | Ethan Rigel | 17,000 |
| | | | |
| 361 | 1 | James Baxter | 2,225 |
| 361 | 2 | Larry Wright | 13,875 |
| 361 | 3 | Andrew Chen | 24,750 |
| 361 | 4 | Byron Kaverman | 38,875 |
| 361 | 5 | Joseph Zewin | 7,600 |
| 361 | 6 | Randall Cohen | 8,350 |
| 361 | 7 | Andrey Kostenko | 19,550 |
| 361 | 8 | Andrew Badecker | 14,975 |
| 361 | 9 | Mohammad Abedi-Arani | 27,950 |
| | | | |
| 362 | 1 | Brock Parker | 11,675 |
| 362 | 2 | Joseph Kuether | 39,450 |
| 362 | 3 | Dan Shak | 39,125 |
| 362 | 4 | Ara Melikian | 29,900 |
| 362 | 5 | Amar Tiwari | 73,825 |
| 362 | 6 | John Eames | 70,250 |
| 362 | 7 | Walter Jacobsen | 10,150 |
| 362 | 8 | Nathan Jensen | 57,300 |
| 362 | 9 | Richard Bruning | 6,125 |
| | | | |
| 363 | 1 | Eric Blair | 13,700 |
| 363 | 2 | Dustin Dirksen | 35,000 |
| 363 | 3 | Dung Nguyen | 27,100 |
| 363 | 4 | Christopher Bordner | 12,150 |
| 363 | 5 | Albert Kim | 74,675 |
| 363 | 6 | David Wilkinson | 36,425 |
| 363 | 7 | Thomas Koral | 42,575 |
| 363 | 8 | Sebastien Benaben | 22,550 |
| 363 | 9 | Mikhail Yakovlev | 16,150 |
| | | | |
| 364 | 1 | DID NOT REPORT | 25,800 |
| 364 | 2 | Micah Johnson | 12,600 |
| 364 | 3 | Omar Hikary | 28,350 |
| 364 | 4 | Larry Turley | 22,575 |
| 364 | 5 | Joseph Brown | 7,675 |
| 364 | 6 | Federico Buco | 13,700 |
| 364 | 7 | Jamie Robbins | 22,175 |
| 364 | 8 | Thomas Kassela | 28,225 |
| 364 | 9 | Emmitt Mcgill | 10,850 |
| | | | |
| 365 | 1 | Michael Cordi | 19,625 |
| 365 | 2 | Anthony Pottruff | 30,025 |
| 365 | 3 | John Yocca | 26,225 |
| 365 | 4 | Masaki Ozawa | 2,250 |
| 365 | 5 | Shaun Meadows | 24,900 |
| 365 | 6 | Theo Schmitt | 13,675 |
| 365 | 7 | Dan Natarelli | 17,850 |
| 365 | 8 | David Jones | 21,900 |
| 365 | 9 | Olga Varkonyi | 4,400 |
| | | | |
| 366 | 1 | Maya Geller | 18,350 |
| 366 | 2 | Laurence Cruz | 9,775 |
| 366 | 3 | Benjamin Statz | 12,600 |
| 366 | 4 | Peter Hernandez | 15,875 |
| 366 | 5 | Christopher Underwood | 21,525 |
| 366 | 6 | Michele Koerner | 1,400 |
| 366 | 7 | Henry Liang | 32,325 |
| 366 | 8 | Ben Yu | 24,300 |
| 366 | 9 | Jonathan Duhamel | 45,525 |
| | | | |
| 367 | 1 | Kyung Han | 15,000 |
| 367 | 2 | Reagan Rich | 23,375 |
| 367 | 3 | Phillip Delaney | 15,325 |
| 367 | 4 | Joseph Trachta | 9,650 |
| 367 | 5 | Thor Buell | 6,450 |
| 367 | 6 | Jordan Young | 19,675 |
| 367 | 7 | Brick Verser | 23,800 |
| 367 | 8 | Andrew Robinson | 21,750 |
| 367 | 9 | Robert Olivetti | 22,550 |
| | | | |
| 368 | 1 | Shorussar Torres | 25,150 |
| 368 | 2 | Charles Couvillion | 5,300 |
| 368 | 3 | Jesse McGinty | 32,275 |
| 368 | 4 | Frank Arone | 1,500 |
| 368 | 5 | Yasuhiro Waki | 35,950 |
| 368 | 6 | Timothy Anstine | 8,275 |
| 368 | 7 | John Dodson | 12,575 |
| 368 | 8 | Armando Tebano | 5,825 |
| 368 | 9 | Michael Sortino | 30,250 |
| | | | |
| 369 | 1 | Samuel Barnhart | 26,850 |
| 369 | 2 | Rafiq Mohammed | DNR |
| 369 | 3 | Marc Cramer | 39,525 |
| 369 | 4 | Jonah Miller | 16,250 |
| 369 | 5 | Hayden Fortini | 10,875 |
| 369 | 6 | Steven Lim | 5,150 |
| 369 | 7 | Uwe Zimmer | 25,300 |
| 369 | 8 | Prakash Patel | 9,550 |
| 369 | 9 | Michael Merichko | 12,375 |
| | | | |
| 370 | 1 | Dimitrios Parikos | 15,850 |
| 370 | 2 | Joanne Monteavaro | 12,450 |
| 370 | 3 | Todd Breyfogle | 16,400 |
| 370 | 4 | Dao Bac | 32,000 |
| 370 | 5 | Gabriel Houle | 36,975 |
| 370 | 6 | Keary Sims | 8,375 |
| 370 | 7 | Jeremy Nicely | 13,525 |
| 370 | 8 | Jonathan Neckar | 25,175 |
| 370 | 9 | David Langlois | 11,375 |
| | | | |
| 372 | 1 | Anthony O'Hagan | 40,475 |
| 372 | 2 | Michael Staples | 15,275 |
| 372 | 3 | Christian Bazinet | 46,100 |
| 372 | 5 | James Solano | 26,750 |
| 372 | 6 | Elliot Smith | 13,700 |
| 372 | 7 | Matthew Vengrin | 11,450 |
| 372 | 8 | Thomas Servais | 35,050 |
| 372 | 9 | Young Ji | 30,225 |
| | | | |
| 373 | 1 | Anthony Lazar | 13,575 |
| 373 | 2 | Marc Karam | 38,950 |
| 373 | 3 | John Esposito | 24,000 |
| 373 | 4 | Shawn Reed | 9,175 |
| 373 | 5 | James Adams | 8,525 |
| 373 | 6 | David Premer | 9,550 |
| 373 | 7 | Dave Ferrara | 21,500 |
| 373 | 9 | Michael Noori | 25,050 |
| | | | |
| 375 | 1 | Anthony Spera | 7,850 |
| 375 | 3 | Alex Gyr | 12,975 |
| 375 | 4 | Brian Sommatino | 14,525 |
| 375 | 5 | DID NOT REPORT | DNR |
| 375 | 6 | Sadan Turker | 35,900 |
| 375 | 7 | John Davis | 22,925 |
| 375 | 8 | Jussi Ruokanen | 17,850 |
| 375 | 9 | Christopher Wafula | 10,400 |
| | | | |
| 376 | 1 | James Page | 18,175 |
| 376 | 2 | Mohamed Benohod | 25,425 |
| 376 | 3 | Henry Gompf | 11,750 |
| 376 | 4 | Christian Mascagni | 16,025 |
| 376 | 5 | David Paluch | 22,600 |
| 376 | 6 | David Weyn | 5,475 |
| 376 | 7 | Joseph Serock | 32,050 |
| 376 | 8 | Nick Olivieri | 5,550 |
| 376 | 9 | Justin Filtz | 33,450 |
Event #8: $1,000 No-Limit Hold'em
Day 2 started