Sponsored by:

Level:

5
Blinds:

75/150
Ante:

25
The players are on a 15-minute break.
"Captain" Tom Franklin shoved from the hijack for 750 and was called by Aaron Steury in the small blind. The player in the big blind reraised all in for about 2,000 and Steury called.
Steury:




- drew one
Big Blind:





- stood pat
Franklin:




- drew one
Steury turned over a

for a wheel, eliminating both opponents.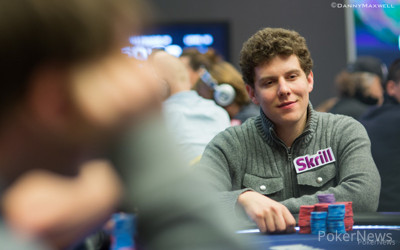 On this episode of the Thinking Poker Podcast, Nate and Andrew set the location for the meet up in Las Vegas, break down a cash game hand that listener Jason played at Maryland Live! Casino, and talk with Ari Engel about how to travel the circuit profitably, the difficulties of multi-tabling online, and the value of live tells.
0:00 — Intro
3:14 — Thinking Poker meet up information
11:14 — Breaking down a cash game hand from Maryland Live!
44:15 — Interview with Ari Engel
You can subscribe to the entire iBus Media Network on iTunes here, or you can access the RSS feed here. The PokerNews family of podcasts is now available on Stitcher.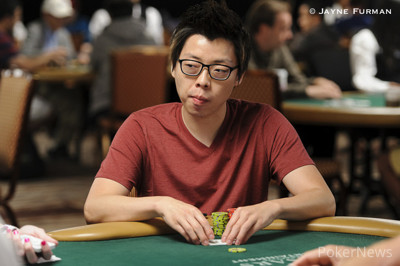 A short-stacked player shoved from under the gun for 850 and Joseph Cheong called from the cutoff. The all-in player drew two cards to Cheong's one.
Opponent:




Cheong:




Cheong turned over a

for a ninety-eight, while his opponent turned over a

and was drawing dead. He did, however, reveal a

as his other card.
"Wished I'd have looked at that one first," he said.
Cheong is up to about 17,500.
| | | | | | |
| --- | --- | --- | --- | --- | --- |
| Joseph Cheong | | | | 16,300 | 12,150 |
| Mike Leah | | | | 14,500 | 10,000 |
| Naoya Kihara | | | | 12,000 | 2,000 |
| Yuval Bronshtein | | | | 8,300 | 3,800 |
| Rep Porter | | | | 7,800 | 3,300 |
| Ryan D'Angelo | | | | 6,400 | 1,900 |
| Scott Abrams | | | | 6,000 | 1,500 |
| Eli Elezra | | | | 5,700 | 2,100 |
| Randy Ohel | | | | 5,100 | 600 |
| Owais Ahmed | | | | 4,300 | 4,300 |
| Jesse Martin | | | | 4,200 | 4,200 |
| Calvin Anderson | | | | 3,900 | -600 |
| Antonio Esfandiari | | | | 3,900 | -600 |
| George Danzer | | | | 3,600 | -800 |
| Bruno Fitoussi | | | | 2,900 | -1,600 |
| Mike Gorodinsky | | | | 2,600 | -1,900 |
| Darren Elias | | | | 2,400 | -2,100 |
| Konstantin Puchkov | | | | 2,300 | -2,200 |
| Mike Wattel | | | | Busted | |
Level:

4
Blinds:

50/100
Ante:

25