For four men in today's field, their journey to the 2014 World Series of Poker began where poker tales often do — at a lowly truck stop in Loxley, Alabama. It was there that Biloxi, Mississippi poker player Kai Landry was sent, amid the dank odors of diesel and unkempt long-haul truckers, to meet a mystery man to pick up $40,000 in cash – enough for four buy-ins to the WSOP Main Event.
With cash in hand, Landry met up with Bill Philips, and together the two took the red-eye to Las Vegas to meet BJ McBrayer and Josh Reichard, with whom they would split the loot. The plan was simple for the four of them to take the cash, which had been raised by 73 investors at $200 per share, and test their luck in poker's most prestigious tournament.
Not surprisingly, the truck stop, cash, and road to Sin City were all part of one man's plan, Will "Monkey" Souther, who finished 175th in the 2012 WSOP Main Event for $44,655. Funny thing is, Souther isn't even allowed to play in the WSOP. You see, a couple years back Souther was eighty-sixed from all Caesars properties after a contentious incident at the Horseshoe Hammond. Despite his best attempts, Souther's WSOP eligibility has failed to be reinstated, so he's decided to make his presence known through the aforementioned stable of pros, collectively known as "Monkey's Minions".
"I got the idea of making my presence felt at the Main Event, and the only way I could do that was by raising money to get players in and having them play under my guidance," Souther explained. "So I announced what amounted to a contest on my blog. I got about 15-20 candidates to apply for consideration. My initial goal was to send three players. I had a lot of really solid candidates and a lot to consider. I finally narrowed it down to six and opened a poll for people to vote. After a week, I named BJ McBrayer and Joshua Reichard as my first two, and then said it would be up to voters to decide who would be the third."
"The polls exploded," Souther continued. "Both 'Wild Bill' Phillips and Kai Landry got a ton of votes each, and then all of a sudden, I had a flurry of interest from people wanting to buy in to the package. So instead of three, I ended up getting enough for four players. I started calling them Monkey's Grinders, but a lot of people have playfully renamed them Monkey's Minions, which is kind of fun, too."
"Basically what I went looking for was the kind of players that I knew would be excellent in that structure among a field of tons of dead money. I wanted guys who were solid players but simply didn't have the $10,000 to pony up and would be forced to either win a satellite or sell a package of their own. I'd say three of the four are pretty introverted and not lucky enough to have the kind of network to sell a package as I am. Admittedly, I am one of the luckiest people in poker when it comes to that having cultivated an amazing network, mainly by doing my sports pools over the last 20 years."
"All of them are buying in for tomorrow's Day 1c," Souther said. "They've all signed a contract, and one of the stipulations on there is that should any of them make it to the final three tables, upon getting their money, they must request the presence of Jack Effel and make him the following offer: Immediately reinstate Will Souther to be able to play WSOP events at all Caesar's-owned properties and they will leave a 5% tip that will come out of the investors 65% and not the players share. Additionally, should any of them make the November Nine, there will be very interesting wardrobe choices as well as a dinner the night before the final table with all of the 73 investors who happen to make it to Vegas. Needless to say, I am very excited for tomorrow, as I have myself purchased five shares priced at $200 per share. There were a total of 200 shares sold."
Here's a little more information on each of Monkey's Minion's:
Josh Reichard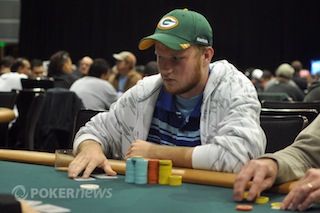 In November of 2013, Reichard topped a field of 305 players to win the Mid-States Poker Tour (MSPT) Ho-Chunk Gaming in Wisconsin Dells, Wisconsin, a stop that created a state record prize pool of $305,000. Reichard, who hails from Janesville, Wisconsin, took down $78,003 for the win and a RF Moeller diamond championship bracelet.
A month later, Reichard captured his first WSOP Circuit gold ring when he won Event #4 $365 No-Limit Hold'em at Harrah's Rincon for $11,589. Then, in April of this year, Reichard won his second ring when he took down Event #6 $365 Limit Omaha Eight or Better at Horseshoe Council Bluffs for $10,919. All told Reichard has $103,925 in WSOP earnings.
BJ McBrayer
Hailing from Tuscaloosa, Alabama, BJ McBrayer has $140,890 in career WSOP earnings, which includes a ring win at the WSOP Circuit St. Louis Lumiere Place Casino, which is where he won Event #8 $580 No-Limit Hold'em for $20,997.
Kai Landry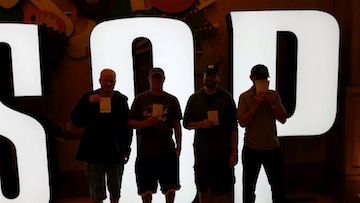 Nicknamed "The Violent Milkman," Kai Landry has $266,111 in WSOP earnings, which includes two WSOP Circuit rings. The first was back in the 2008/2009 season when he won Event #14 $5,150 Circuit Championship at Harrah's Tunica for $183,974, and the other later that same season in the Harrah's New Orleans Event #15 $340 No-Limit Hold'em for $35,620. Since then Landry has been a staple on the southern poker circuit.
"Wild Bill" Phillips
Phillips is looking for his first WSOP cash in Vegas, but he has nine cashes on the circuit for $92,595. While a gold ring has eluded him thus far, he did finish runner-up in the 2011/2012 WSOP Circuit IP Casino Resort & Spa $1,600 Main Event for $69,721.
How will Monkey's Minions fare in the 2014 WSOP Main Event? Only time will tell.