Macau's Poker Scene Looking Vibrant after Successful 2009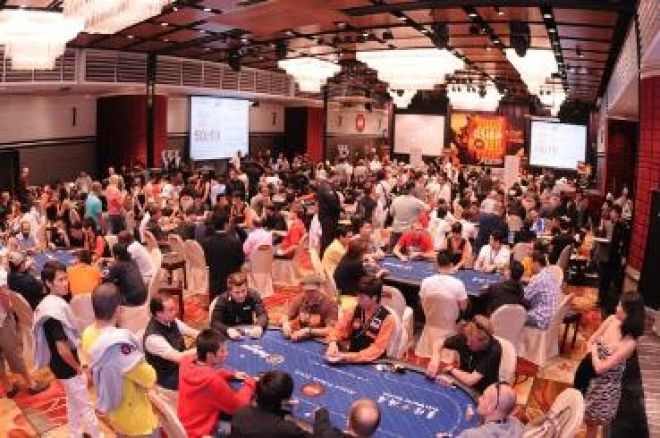 With a successful 2009 already in the books, the poker scene in Macau is looking to take one step further this new year with even more poker rooms and tournaments.
Last year, Asia's gaming capital was the site of record-setting poker events from the biggest poker tours in the region. In addition, several new poker rooms opened in Macau, signifying that players in the area were becoming more interested in the game.
In August, the Asian Poker Tour (APT) held its 2009 Macau event at the StarWorld Hotel and Casino. Its twelve-day festival of poker featured fifteen side events in addition to the main event, which set a new APT record with a field of 326 runners. The winner was France's Adrien Allain, who won HK $3,035,000 for his first-place finish.
Over at PokerStars Macau at the Grand Lisboa Hotel, the third season of the Asia Pacific Poker Tour (APPT) Macau event saw Irish player Dermont Blain win HK $4,194,000 in its main event. Blain was just one of the APPT Macau record 429 players who played in the main event, contributing to the prize pool of HK $16,130,400.
The PokerStars Macau poker room also held its own series of tournaments throughout the year, culminating in a grand finale in December. The poker room's Macau Poker Cup held four Red Dragon main events in 2009, with each one getting more players than the last.
The first Red Dragon main event, which was held in March, saw its HK $500,000 guaranteed prize pool broken as 112 players entered for a total prize pool of HK $1,052,800. Due to the large turnout, the subsequent Red Dragon events offered a guarantee of HK $1,000,000. It didn't matter, as player numbers kept increasing, including a field of 247 runners in October.
PokerStars Macau then ended a big year with its grand finale in December - the Macau Poker Cup Championship (MPCC). Held from December 12-20, the MPCC featured a HK $20,000 main event with HK $2,000,000 in guaranteed prize money. The winner was Devin Tang, who defeated Taipei's Michael Chang to win the HK $727,600 first prize.
Last year also saw two new poker rooms open in Macau. Sun City's Poker King Club, named after the movie released earlier in the year, opened on October 31 at the StarWorld Casino. Over on the other side of town, The Venetian opened its own poker room in late November, adding to the hotel's multitude of gaming and shopping attractions.
With more poker rooms and bigger tournaments, 2009 definitely showed just how much poker is capable of growing in Macau and the region as a whole. Already established as the go-to place for poker in Asia, it won't be long before it becomes one of the biggest poker hotspots in the world.
Start playing online on PokerStars now!
Join Asia PokerNews on Facebook and follow us on Twitter!