Kenneth Leong Wins Inaugural Asia Poker Masters at Venetian Macau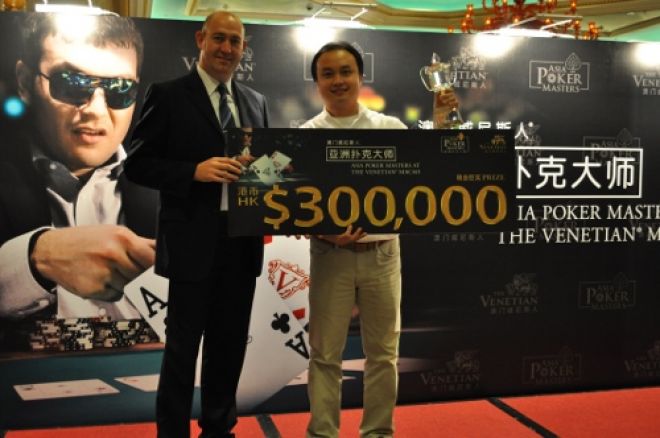 Yuen Kiong "Kenneth" Leong made history this past weekend as he became the first-ever winner of a poker tournament at the Venetian Macau's poker room.
(Main photo: Venetian Macau casino manager Trevor Hammond, left, presents the HK $300,000 first prize and winner's trophy to Kenneth Leong, right.)
Leong navigated through a field of some of Macau's most experienced players and bested Anson Tsang heads-up to win the Venetian Macau's inaugural Asia Poker Masters tournament.
For the win, he received HK $300,000 in prize money, a sparkling new trophy, and the honour of being the first poker champion at the Venetian Macau.
A total of 116 players signed up to play in the two-day event, which took place from May 29-30. It was truly an international affair as there were representatives from Europe, HK, China, Japan, USA, Australia, and Macau.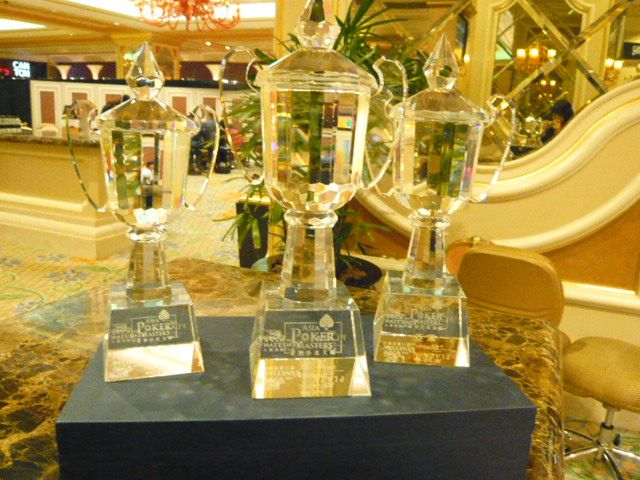 The HK $1,000,000 guaranteed tournament saw twenty players get into the money, including some well-known names on the Macau poker scene such as Fred Leung, David Ewing, and Elton Tsang.
Here are the top ten finishers from the tournament:
1. Kenneth Leong Yuen Kiong (HK $300,000)
2. Anson Tsang Yan Shing (HK $180,000)
3. David Ewing (HK $100,000)
4. Wang Han Bing (HK $75,000)
5. Tommy Wong Kai (HK $60,000)
6. Chao Li (HK $50,000)
7. Benjamin Condit Royal (HK $40,000)
8. Jason Coe George (HK $30,000)
9. Khenh Chanthamala (HK $20,000)
10. Fred Leung (HK $20,000)
For more information on poker at the Venetian Macau, click here to read the Asia PokerNews feature on the poker room.
In addition, you may visit their official web site by clicking here.
Sign up for an online poker room through Asia PokerNews to get exclusive freerolls, bonuses, and promotions!
Join Asia PokerNews on Facebook and follow us on Twitter!