PokerStars Deals 70 Billionth Hand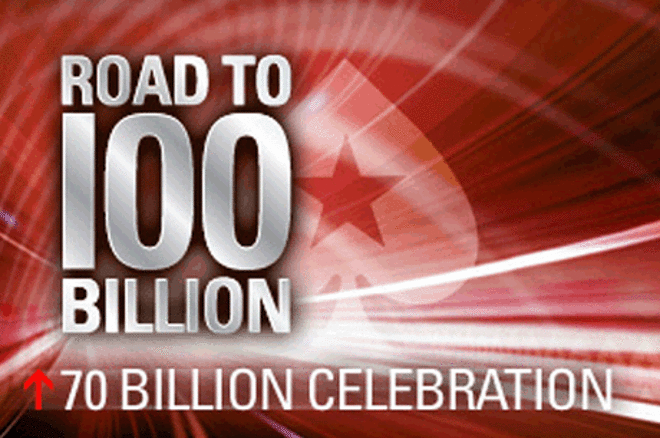 PokerStars dealt its 70 billionth hand late Thursday night, giving one lucky player more than $70,000 as part of the Mega Milestone celebration. PokerStars gave away hundreds of thousands of dollars over the past week leading up to the 70 billionth hand, which came one month before the site celebrates its 10th Anniversary.
Play was halted at a $.25/.50 no-limit hold'em heads-up table Thursday night when two German players were informed that they were about to be a part of history. Railbirds flocked to the table as the two players put their $25 stacks preflop; one player was about to win $73,380, while the other would collect $1,700.
Koenigskeba:


DodgeUrOuts:

The board came





, giving "Koenigskeba" a winning pair of aces and the grand prize.
Then came the controversy. After the river card was dealt, several onlookers discovered that the two winners had been working together by folding hands as quickly as possible leading up to the milestone. Since they weren't paying any rake, they were basically freerolling for a shot at the milestone prize.
That sparked confusion and even animosity from players who had been taking part in the promotion. On Friday, PokerNews reached out to PokerStars for a statement. Here's the response we received:
"The winner of our 70 billion hand promotion appears to have worked with another player to use "fast-folding" methods in an attempt to gain an advantage, which has raised concerns among a number of our players. We have reviewed the circumstances around the winning hand and have determined that while the fast-folding may not be in the spirit of the promotion, it does not violate the rules and regulations of the promotion or our Terms of Service. As such, we will honour our promotional award."
"We are reviewing the format of the promotion to try to minimize this kind of activity in future milestone hand promotions. We'll provide more information on this in the near future. Rest assured that any format revisions will be implemented in time for the next milestone hands promotion, which will be a special edition during the 10th Anniversary celebrations."