Five Thoughts: Bursting Bubbles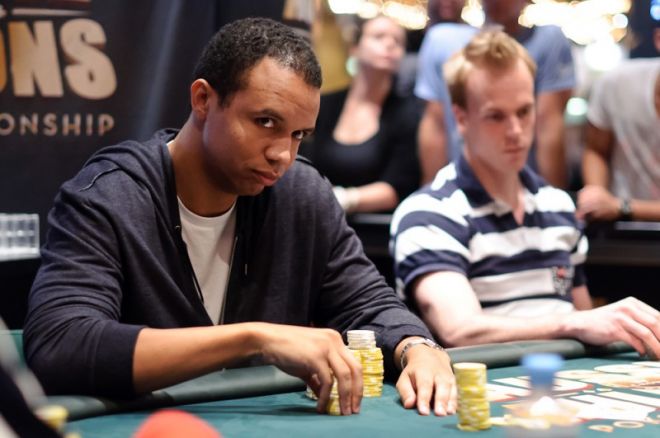 Since 2003, the World Poker Tour L.A. Poker Classic has always been one of the more popular stops on the circuit because it brings together L.A. and Vegas, creating a huge field for a $10,000-buy in event. Well, this year there were even more eyeballs on the event than usual because Phil Ivey made his triumphant return to the U.S. poker scene.
His exit from the tournament was, dare I say, classic.
1. Bubble boy! Bubble boy! Bubble boy!
I doubt the Humphrey's would've chanted that had they been railing Ivey this weekend, but nonetheless he busted on the stone cold bubble in 55th place. There is a video of his bust-out hand, and in true Ivey fashion, he leaves the table without saying a single word, stopping only to shake a player's hand at the table.
"I hope that kid spit in his hand before he shook Ivey's," YouTube user jamesinwrigleyville commented.
That comment is on par with the overwhelmingly negative "Phil Ivey playing LAPC Main Event" thread over on TwoPlusTwo. Posters are furious with Ivey because they believe he is playing with "their Full Tilt Poker money." While at the tournament, nobody confronted him. In fact, when he bubbled, nobody clapped and nobody celebrated. The players all sat in silence as Ivey joined his two bodyguards and left the room.
What if someone had confronted him? First, if you confront Phil Ivey and yell obscenities at him and demand your money, what's going to happen? Anything fruitful? No. You're just going to get kicked off the property and become angrier. Second, what can Ivey do? We'd like to believe that if he could, he would snap his fingers and everyone would be paid instantly. It seems as though he never intended to deceive us.
Let's be honest, do you really see Ivey in a boardroom analyzing the 3Q growth of Pocket Kings Ltd?
Pointing fingers and yelling and screaming isn't getting us anywhere, it's just creating unnecessary white noise. I understand you're angry — and you have every right to be — but spewing hatred about someone who may not have even known what happened is just plain silly.
Let's not treat this like the Salem Witch Trials.
2. Poker After Dark set for an awkward return
We learned Monday that, beginning in March, NBC Sports Network will air episodes of Poker After Dark that were filmed in December of 2010. Poker PROductions has five weeks of content in the can, including four weeks of ring play and one sit-n-go.
Although there is a glaring void in poker entertainment thanks to events on Black Friday, I don't know if the fans will be interested in watching episodes of PAD — a show once sponsored by FTP. The show is likely to feature a myriad of former FTP Pros (didn't we just address this with Ivey?), the context of the players' conversations is going to be out of date, and players with frozen funds don't want to see high-stakes cash games or sit-n-go's.
They want their money back.
It will be interesting to see whether or not the producers choose to blur out the players' patches. The World Series of Poker implemented a very strong patch rule for its televised tables last year, and certainly NBC doesn't want to be attached to what the public believes is a "Ponzi scheme." If they do choose to blur out the patches, then let me be the first person to tip my cap to the editors.
That's a hell of a lot of Gaussian blur.
At the end of the day, despite my weariness, I'm obviously going to tune in. Mainly because it's my responsibility to do so, but also because there's a possibility that we can find clues regarding the downfall of FTP. It will be like an episode of Blue's Clues mixed with Back to the Future, minus the DeLorean and a crazy man in a green pullover named Steve.
Or something like that.
3. Team Online > Team Pro
PokerStars Team Online member Mickey "mement_mori" Petersen defeated Team PokerStars Pro Pierre Neuville to win EPT Copenhagen this past weekend. Petersen, who lives in London, earned DKK2,515,000 ($444,595) for the win — his first six-figure score in a live tournament. His previous largest cash was $97,716, which he received for finishing fourth in a side event at the EPT Grand Final in Monte Carlo in 2010.
Petersen is undoubtedly the king of the Spring Championship of Online Poker series on PokerStars, amassing over $500,000 in winnings in his career. His most notable SCOOP finish came in the 2010, where chopped a $2,100 event and took home $169,286. Petersen has also final tabled the Sunday Warm Up.
Being one of the best online players in the world doesn't always translate to the live arena, though. For one, it takes months to put in the volume you can put in online, and variance can be unbearable. However, if you're as good as Petersen is, then the cards are bound to run true at some point, and all of those +EV decisions you've been making will pay off.
Petersen's win should be a welcoming sign for all online grinders who choose to or — in the case of U.S. residents — have to play live. The grind is tough, and the uncertainty can be overwhelming, but all you can do is continue to make the right decisions and put yourself in the best position possible in each hand. Tilting or losing control will get you nowhere.
4. World Series of Achtung
If you follow Jason Mercier, Vanessa Selbst, or Matt Waxman on Twitter, then you've probably heard of the iPad game Achtung. If you're curious, and are fortunate enough to own an iPad, then maybe you've also downloaded a German version of the classic "snake" game and given it a whirl.
I did, and I'm terrible. My high score is 4,446 points.
The first time I encountered the game was at the final table of Event 4 of the 2011 WSOP. Allen Bari, the eventual winner, was the chip leader, and Waxman and Selbst were railing him. The two grabbed three chairs and brought them over to the live-reporting desk. They placed the iPad on one chair, sat in the other two, and off they went. At first I couldn't see the screen, and Waxman and Selbst were pressing buttons on the corner of the tablet, so I thought it was some sick version of heads-up Hungry Hungry Hippos. Upon further review, I discovered the two snakes.
At the time, I thought they were crazy. Now, I know that they're crazy.
iSignz, the creators of Achtung, recently released a patch for the game, allowing you to play against a bot. This has sparked a new, more intense obsession for the game, and unsurprisingly, Vanessa Selbst holds the world record for the highest score. Erica Holland, Mercier's fiancé, has documented his grind sessions, and this picture from Christian Harder epitomizes the whole situation.
I am certain that other players are grinding Achtung daily, so why don't we have a 16-player bracket tournament to see who's really the best on that day in the world? The games are short, so each matchup could be a seven-game series, and games could easily be played on break or right before or after an event. The WSOP is a perfect setting for such an event, and for the right price, I might even donate to the cause.
5. Shamballa Shop
For their high-roller events, the European Poker Tour is awarding winners a new Shamballa Bracelet. Don't know about Shamballa? Check out this video to learn more.
Get all the latest PokerNews updates on your social media outlets. Follow us on Twitter and like us on Facebook.