Five Thoughts: All Hail King Dan Smith, Howard Lederer Plays Festa al Lago, and More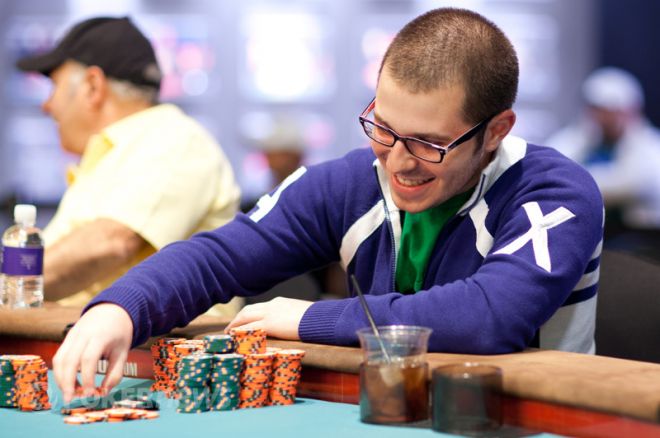 Dan Smith doesn't always win the PokerStars Sunday Million, but when he does, he receives more than first-place money.
When PokerNews' Mickey Doft, author of The Sunday Briefing, Skyped Donnie Peters and I on Sunday evening to tell us that Dan Smith was about to win the Sunday Million, we believed him. However, when Doft added that Smith was going to ship more than first place money, our jaws hit the floor.
It wasn't long before Smith won the tournament, and the Twitterverse confirmed Doft's message:
And @dansmithholla puts a cap on what is unquestionably the greatest year in MTT history. Chops for more than 1st while still 5handed.

— Scott Seiver (@scott_seiver)
@dansmithholla ok i believe you won another huge poker tournament, but more than 1st place money? SERIOUSLY? congrats...

— Vanessa Selbst (@VanessaSelbst)
Winning more then first place money in the Sunday Million has to unlock some sort of achievement @dansmithholla

— Peter Jetten (@PeterJetten)
@PeterJetten @dansmithholla PoTM early favorite (player of the millennium)

— Jonathan Aguiar (@JonAguiar)
Finally, the King himself addressed the people:
Binkkkkkk, just beat out over 7000 entrants and won the Sunday Million on @pokerstars !! Chopped 5 handed, got 8k more than first place :P

— Dan Smith (@dansmithholla)
What Smith did was remarkable, and unsurprisingly it leads this week's Five Thoughts.
1. Dan Smith Wins Another Tournament; Surprises No One
Ok, Mr. Smith, this is getting a bit redundant.
First, he wins the 2012 Aussie Millions $100,000 Challenge, earning $1,041,828. Then, he wins three — no that's not a typo three — €5,000 events at the European Poker Season 8 PokerStars and Monte-Carlo® Casino Grand Final for a collective $688,486. A few months later, he cashes in five World Series of Poker events, including a third-place finish in Event #50: $5,000 No Limit Hold'em for $368,943. And finally, let's not forget that he won the EPT9 Barcelona €50,000 Super High Roller ($1,183,100), finished fourth in a €10,000 heads-up event at EPT9 Barcelona ($46,689), and made the final table of the Partouche Poker Tour Grand Final, finishing seventh and earning $224,430.
To date, Smith has $3,650,758 in live tournament earnings in 2012, but that just wasn't enough.
On Sunday, Smith, playing under the handle "Danny98765," bested a 7,060-player field and accomplished something that all online MTT grinders dream of — he won the Sunday Million. Not only did Smith win however, he won nearly $8,000 more than the designated first-place prize.
How is that possible? Well, after a few hands of five-handed play, Smith and his four opponents began discussing a potential deal. With about 47 percent of the chips in play, a chip chop deal guaranteed Smith $200,504.25. The short-stacked "yurabond" wanted extra money, and Smith happily volunteered to ship him an extra $1,000. A few other players agreed to ship a few hundred dollars, and the deal was made, guaranteeing Smith about $12,000 less than the published first-place prize with five players still remaining.
Low and behold, Smith won, adding an extra $20,000 to make his total prize worth $219,504.25.
The deal Nick Grippo pulled off in the 2012 Spring Championship of Online Poker Main Event was a bit more impressive because he hustled for the extra money, but Smith's achievement is amazing. Just making the final table of the Sunday Million is an unattainable, unreachable dream that if not all, then most, of the players on PokerStars dream of accomplishing.
Winning the tournament is incredible, but winning it and banking more than the allotted first-place prize money is simply absurd.
Hat's off to Smith, who's also the leader in the Global Poker Index Player of the Year Race. He has a 192.78-point lead over Kyle Julius with only two months to go in the year.
On Monday, Greg Raymer became the second player in the eight-year history of the Heartland Poker Tour to win three titles. Raymer conquered at 185-player field at the Prairie Meadows Racetrack Casino Hotel in Altoona, Iowa, eventually defeating Chad Lawson heads up and banking $72,089 for his efforts.
That top prize represents just 1.4 percent of what he earned for winning the 2004 WSOP Main Event, but three wins in one season of one tour is remarkable, regardless of what tour it is.
Unlike Jeremy Dresch, who won his three HPT titles between 2009 and 2011, all three of Raymer's wins came in a single year. Raymer's first win came in July at the Route 66 Casino Hotel in Albuquerque, New Mexico, where he defeated a field of 131 entries and won $71,875. In September, Raymer traveled to the River City Casino in St. Louis, Missouri and defeated a 336-player field, earning $121,973. Now, Raymer has three wins in three months, and a total of $265,973.
For those of you wondering, that's roughly 5.3 percent of what he earned for winning the 2004 WSOP Main Event.
Raymer was very happy about the win, and tweeted the following:
Thx everybody for all the kind words in your tweets. Winning a 3rd HPT title this year was a blast, and your support makes it even better!

— Greg Raymer (@FossilMan)
Raymer and the HPT are a perfect poker marriage. The former world champion is bright, friendly, and willing to talk to anybody. His track record alone would strike fear into amateur players who are taking a shot in a four-figure tournament, which is a lot more than you think for most people. but once you play with him, it's easy to forget that he's earned nearly $7.3 million playing live poker tournaments. Rather than ridicule his opponents or tout his own accomplishments, Raymer engages with his tablemates and treats them like equals.
What a novel idea, right?
A native of North Dakota who now resides in North Carolina, Raymer understands what the HPT is all about. These three wins have created a nice buzz for the HPT, and I hope they continue to have sustained success within the smaller buy-in poker community.
3. Johnny Chan Meets Jersey Shore
Usually, trashy television puts the fear of God in me because I believe it's detrimental to society. One can only watch so much Maury before they become transfixed by the off-the-wall drama that's depicted.
That being said, I can't wait for Full House With Johnny Chan. Even thought it's Jersey Shore meets Real World meets Poker After Dark, I can't turn away whenever somebody watches the sizzle reel on YouTube.
If you haven't already, go ahead and indulge:
Right off of the bat, we have Johnny Chan walking down a staircase in a starched, high-collar shirt, wearing a ridiculous pair of sunglasses. Rather than introduce himself directly to the camera, he appears to be looking at a cue card or off into space. Then, at :24, Chan apparently messed up his line, because the editor was forced to dub Chan saying "10 World Series Poker Bracelets."
Finally, to make the first 30 seconds as cringe-worthy as possible, Chan spreads his arms as wide as he can, looking like Kate Winslett on the bow of the Titanic, and exclaims, "Welcome to my mansion!"
The rest of the teaser is equally hilarious, especially the part where a local Las Vegas grinder is filmed playing a fake hand of heads up, calls his opponent with ace-high, wins, and says that he, "Pays his rent in euros."
At first, poker fans, including myself, didn't know if this trailer was real. Jay Ishimaru, a producer of the show, confirmed that the show is real, but will be much different and less scripted than the sizzle reel. That's actually a bit of a bummer because there will be fewer train wreck moments, but perhaps that means it will depict the game in a better light.
Ishimaru also told PokerNews that he and Chan are attempting to pitch the series to various networks in New York and Los Angeles, and that they are, "planning to start shooting within 60 to 90 days and most likely you can see the show air by early February."
I might just use my one time for Ishimaru and Chan.
For updates you can check Javier Prato's personal page. Prato is a second producer who released the teaser on his YouTube account.
4. Williams Ships the WSOPC Horseshoe Hammond Main Event
If you're wondering why Five Thoughts is being released on a Wednesday, it's because Day 3 of the World Series of Poker Circuit Main Event at the Horseshoe Hammond Casino in Hammond, Indiana was a marathon. Of the 1,536 players, 29 still remained at the beginning of the day, and we didn't reach an official final table until 10 p.m. local time.
The eventual winner was Josh Williams, who entered the final table as the chip leader. His largest cash prior to this event was for a little over $11,000 in the Chicago Poker Classic, and now he has a huge six-figure score — he banked $385,909 for the win. Along with the cash and the gold ring, Williams also secured a seat in the $1,000,000 National Championship presented by Southern Comfort 100 Proof, which will take place at Harrah's New Orleans on May 21.
Finishing in third place was WSOPC grinder Tripp Kirk. In April, Kirk took down a WSOPC Main Event in St. Louis, earning $190,961, and with this finish he now has nearly half a million dollars in career live tournament earnings. Kirk took a huge hit when play was seven handed, running kings into Brad Albrinck's pocket aces. The aces held, and Kirk was left with just 5.5 big blinds. Kirk battled back however, and secured his second-career six-figure score.
Here's how the final nine looked:
| Place | Player | Prize |
| --- | --- | --- |
| 1 | Josh Williams | $385,909 |
| 2 | Ryan Riess | $239,063 |
| 3 | Tripp Kirk | $180,403 |
| 4 | Sean Szurko | $137,088 |
| 5 | Zal Irani | $104,371 |
| 6 | Brad Albrinck | $80,179 |
| 7 | Shiva Dudani | $62,438 |
| 8 | Nick Guagenti | $49,075 |
| 9 | Erik Roussakis | $39,168 |
The next stop on the WSOPC is at River Rock Casino in Vancouver, British Columbia. The first event is on Oct. 27, and the Main Event begins on Nov. 2.
5. Howard Plays Festa al Lago — Twice
On Tuesday, the Twitterverse exploded when Howard Lederer sat down to play in the $10,000 Festa al Lago (which means "party at the lake" in Italian if you were wondering like I was) Main Event. A number of pictures were snapped, tweets were tweeted, and according to Jon Aguiar, heckles were sent Lederer's way.
"Someone would ask how many chips Howard had," Aguiar said on the PokerNews Podcast. "Then another person would say 'I don't know. I' don't know. I don't want to speculate.'"
The mood in the room was very tense according to the other players in the event, and the poker community that wasn't present spoke out against Lederer's appearance.
When Lederer began playing in Bobby's Room a few weeks ago, I understood what he was doing and I was OK with it. Playing with a few friends in a public place was a natural way to slowly re-enter the poker world. I even predicted that Lederer would eventually begin playing in tournaments again — but not until the 2013 WSOP. Well, Lederer proved me wrong, and not only did he play in Festa al Lago, he fired two bullets unsuccessfully.
Unless Lederer decides to brick hundreds of tournaments in a row and donate a large sum of money back into the poker economy, I don't think it's right for him to play in these public tournaments until the players in the United States are refunded. I understand that the ball is in the Department of Justice's court right now, and Lederer no longer has an influence on the players' money, but at least respect the fact that dozens of players couldn't even play in Festa al Lago because their funds are frozen.
Lederer will assimilate back into the poker world. It's inevitable. Look at Brad Booth, if poker is what you know and what you love, it's hard to get away. This is too soon however, and sooner or later someone might confront Lederer.
Just wait until the American players get paid, Howard. You will still be tormented and ridiculed in public poker rooms, but the hate will be a little less venomous once the saga is all over.
Follow PokerNews on Twitter for up-to-the-minute news.
*The views expressed in this article are those of the author and do not necessarily represent those of PokerNews.