Steve Gross and Shawn Buchanan Win SCOOP Titles; Shaun Deeb Denied Again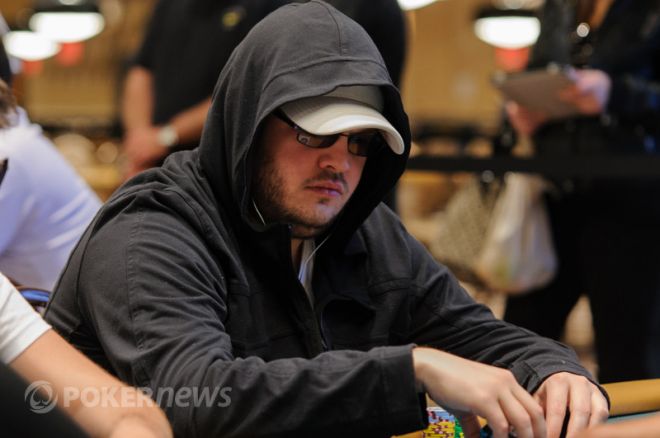 The Spring Championship of Online Poker (SCOOP) at PokerStars is nearly half complete with 21 of the 44 events wrapped up as of Monday afternoon. The first week of action saw several big-name players win SCOOP titles, including Paul "paulgees81" Volpe, Benny "toweliestar" Spindler, Sami "Lrslzk" Kelopuro and Ana Marquez. The list grew even larger over the weekend as Steve "gboro780" Gross and Shawn "buck21" Buchanan each won events. Meanwhile, Shaun Deeb fell just short of a record-setting sixth SCOOP victory for the second time of this series.
PokerStars SCOOP 17-H: $2,100 No-Limit Hold'em 6-Max Turbo Super Knockout ($800K Guaranteed)
| Buy-in | Entrants | Prize Pool |
| --- | --- | --- |
| $2,100 | 787 | $1,613,350 |
| Place | Player | Prize (plus knockouts) |
| --- | --- | --- |
| 1 | Steve "gboro780" Gross | $106,582* (13 KO) |
| 2 | iambest2 | $97,567* (9 KO) |
| 3 | gnetaren | $98,108* (10 KO) |
| 4 | Haralabos "coltranedog" Voulgaris | $88,981* (5 KO) |
| 5 | George "gkap13" Kapalas | $40,334 (14 KO) |
| 6 | kinamon8 | $24,200 (5 KO) |
*Denotes four-handed deal
On Friday, 787 players took to the felt for a chance to win the SCOOP Event 17-H, the $2,100 No-Limit Hold'em 6-Max Turbo Super Knockout. A prize pool of $1,613,350 was created with half the prize spread toward the knockout bounties. Each player's elimination was worth $1,025, while the other half of the buy-in went to the top 90 finishers.
An army of Team PokerStars Pro entered the event, but most left short of the money. Eugene Katchalov, George Danzer, Max Lykov, Mickey Petersen, Liv Boeree, George Lind, Martin Hrubý, Andre Akkari, Jason Mercier, Sebastian Ruthenberg, Naoya Kihara, Matthias de Meulder, Ville Wahlbeck and Christophe de Meulder were among the early eliminations.
While most Team PokerStars Pros busted early, quite a few still managed to run deep and pick up bounties. Among them were Johnny Lodden (74th - $2,259 + six bounties), Isaac Haxton (50th - $2,823 + five bounties), Randy Lew (30th - $4,679 + seven bounties), and Vanessa Rousso (23rd - $5,647 + seven bounties).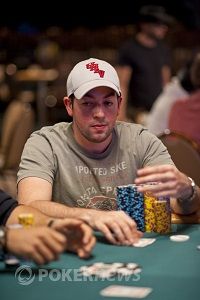 The final table started with blinds at 15,000/30,000/3,750 with "Kinamon8" as the chip leader with 32 big blinds. "Kinamon8" was the first to go after his


failed to hold against "gnetaren's" dominant


. Gnetaren's queen kicker was enough to send kinamon8 packing in sixth place for $24,200 plus five knockouts.
Just two hands later, George "gkap13" Kapalas was next up on the chopping block. In an all-in preflop race, Kapalas fell behind with pocket sixes after Haralabos "coltranedog" Voulgaris turned a straight and rivered a four-card flush holding the

. The same river card gave Kapalas a set but it wasn't enough. He collected $40,334 for fifth place, as well as a tournament-high 14 bounties.
After the remaining four players struck a deal, Voulgaris was out in fourth place. Voulgaris snagged $88,981 with five bounties after his button shove with

lost to iambest2's dominating


.
A short while later gnetaren open-shoved from the small blind with [AhQ] but Steve "gboro780" Gross woke up with pocket kings in the big blind and called instantly. The board ran out





, sending gnetaren out in third for $98,108 plus 10 knockouts.
Gross entered heads-up play with 2.4 million in chips against iambest2's 1.5 million. Blinds were topped at 50,000/100,000/12,500, keeping the action short. In the final hand, iambest2 min-raised on the button, Gross three-bet and iambest2 four-bet shoved. Gross called with


, while iambest2 showed


. The board rolled out





and iambest2 was eliminated in second place for $97,567 plus 9 bounties.
Gross, considered one of the best and most consistent online poker players of the past decade, added a SCOOP title to the World Championship of Online Poker (WCOOP) title he won in 2011, along with $106,582 and 13 knockout bounties.
PokerStars SCOOP 18-H: $2,100 No-Limit Hold'em 10-Max Shootout ($150K Guaranteed)
| Buy-in | Entrants | Prize Pool |
| --- | --- | --- |
| $2,100 | 198 | $396,000 |
| Place | Player | Prize |
| --- | --- | --- |
| 1 | Shawn "buck21" Buchanan | $118,800 |
| 2 | JIZOINT | $ 79,200 |
| 3 | Rednaxela747 | $53,460 |
| 4 | Dan "Danny98765" Smith | $ 39,204 |
| 5 | LaurisL91 | $27,720 |
| 6 | hneves182 | $21,780 |
| 7 | Leqenden | $17,424 |
| 8 | Shaun "shaundeeb" Deeb | $14,850 |
| 9 | FOO-92 | $12,672 |
| 10 | Dani "supernova9" Stern | $10,890 |
SCOOP events continued on Saturday with Shawn "buck21" Buchanan earning his second SCOOP title after taking down Event 18-H, the $2,100 buy-in No-Limit Hold'em 10-Max Shootout.
It wasn't an easy feat for Buchanan who faced a star-studded final table. Despite the lack of a Team PokerStars Pro, the final table did have Dan Smith, Dani Stern, Shaun Deeb along with SCOOP champions "Leqenden" and "JIZOINT."
After taking a huge hit and then a few smaller hits later, Stern was left with just 800 in chips. Stern shoved the button with


but it wasn't enough to hold against Buchanan's


. With that, Stern was the first to hit the rail in tenth place for $10,890.
"FOO-92" followed suit and was out about 10 minutes later. FOO-92 opened from middle position, and Leqenden raised from the big blind. Both players eventually saw all their chips in the middle preflop and it was Leqenden's aces against FOO-92's queens. The better hand held up and FOO-92 exited in ninth place.
Deeb was then crippled after losing a flip with pocket jacks against Buchanan's


. Five hands later, he opened-shoved with


and Smith called with


. Smith flopped a ten and Deeb was out in eighth place.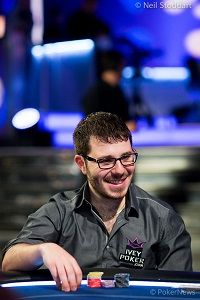 Leqenden's tournament run ended in seventh place after spreading his chips to several other players. As the short stack he pushed the rest of his chips in the middle on a


flop after hitting top pair against "Rednaxeal747" who hit bottom two pair. The turn
and river
gave Rednaxela747 the chip lead and left Leqenden hitting the rail.
"Hneves182" finished in sixth place for $21,780 after his

fell against Buchanan's


. Not long after, "LurisL91" exited in fifth place with $27,720 after Buchanan's ace-jack beat LaurisL91's ace-deuce preflop.
Buchanan went on a heater at that point, busting Smith in fourth place. With blinds up to 125/250 Buchanan four-bet shoved to JIZOINT's open raise and Smith's reraise. Only Smith called with pocket kings but he fell to Buchanan's ace-jack when an ace flopped.
Buchanan then eliminated another player, this time Rednaxela747. Buchanan called a four-bet shove with


and was racing against pocket deuces. The pair held through the turn but an ace on the river sent Rednaxela747 out in third place.
Buchanan started heads-up action with a 2.5-to-1 chip lead against JIZOINT. After running his lead up to 4-to-1 and then back to 2.5-to-1, Buchanan finally secured the win with blinds at 200/400. Buchanan three-bet preflop to 1,680. JIZOINT called to see a



, and barreled 1,650 after a check from Buchanan. Buchanan called and then both players checked the

on the turn. Buchanan led for 2,455 on the

river. JIZOINT shoved for his remaining 9,433 holding


and Buchanan called with


for two pair. Buchanan claimed his second SCOOP victory along with $118,800 in prize money.
PokerStars SCOOP 23-M: $109+R Pot-Limit Omaha Six-Max Turbo ($100K Guaranteed)
| Buy-in | Entrants | Prize Pool |
| --- | --- | --- |
| $109 | 1,153 | $431,800 |
| | | |
| --- | --- | --- |
| *Place | Player | Prize |
| 1 | Florian "FA_Morgoth" Langmann | $62,838* |
| 2 | Shaun "shaundeeb" Deeb | $63,464* |
| 3 | PALbICH | $41,021 |
| 4 | papier_mashe | $28,067 |
| 5 | CMoosepower | $18,395 |
| 6 | Ifold2ndnuts | $12,954 |
*Denotes heads-up deal
On Sunday, Event 23-M, the $109+R 6-Max Turbo Pot-Limit Omaha event nearly saw Shaun Deeb earn another SCOOP title. Although he fell short of first, he did leave with the biggest payday after a agreeing to a heads-up deal. In the end, it was Florian "FA_Morgoth" Langmann who was crowned as the victor to receive $62,838 and deny Deeb his sixth SCOOP title (Deeb won four last year).
The tournament attracted 1,153 players, and after 2,243 rebuys and 922 add-ons, the prize pool eclipsed $431,000, more than four times the event's $100,000 guarantee.
"Ifold2ndnuts" was the first player to bust at the final table. Ifold2ndnuts made trip tens on a board of





, but Langmann had a flush to send Ifold2ndnuts to the rail with $12,954 for sixth place.
Langmann then eliminated "CMoosepower" in fifth place. All of the chips went in preflop with CMoosepower holding




against Langmann's




. The board ran out





, giving Langmann a full house to extend his chip lead.
Another preflop all-in confrontation occurred a short while later when "papier_mashe" tabled


against "PALbICH's"




. The board came





and PALbICH's hand finished best, ending papier_mashe's run in fourth place.
Just five hands later, PALbICH was eliminated in third place after a run-in with Deeb. Deeb's two pair held up to set up a heads-up encounter with Langmann.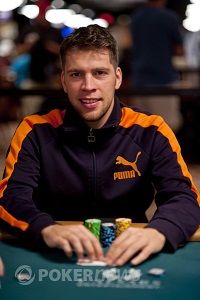 This marked Deeb's second heads-up battle already in SCOOP 2013 after finishing runner-up to Paul Volpe in Event 4-H, a $2,1000 Badugi tournament. Aiming for a sixth career SCOOP watch, Deeb fell just shy again after losing to Langmann.
Heads-up play began with the two players nearly evenly stacked, with Deeb at 7,787,189 and Langmann at 7,010,811. After three hands, they agreed to a "chip chop" split of the remaining prize money, leaving $2,000 up for grabs.
In a pivotal hand that left Deeb with 1.31 million chips to Langmann's 13.48 million, Langmann raised on the button and Deeb three-bet, and Langmann called. The flop showed



. Deeb bet 875,000 and Langmann called. With a

on the turn, Deeb led for 4.75 million and Langmann called all in for 4,368,311. Deeb had




and Langmann held



. Both players had flush draws with Langmann holding the higher card. The
on the river gave Langmann two pair and a commanding chip lead.
Deeb couldn't recover and finished so close to SCOOP title No. 6. Instead, he snagged $63,464 for his efforts and is already in excellent shape to win SCOOP Player of the Series for the second consecutive year.
For more on the winners, check out the PokerStars Blog.
Get all the latest PokerNews updates on your social media outlets. Follow us on Twitter and find us both Facebook and Google+!