Win Your Way to Latvia for the Unibet Open Riga
Download Unibet Poker and win a tournament package to the Unibet Open Tour in Riga.
After more than three months hiatus, the Unibet Open Tour is set to kick back into full gear in just one months' time.
Become the Champion of Riga
Taking place from Dec. 1 to Dec. 4, the Unibet Open Riga in Latvia is shaping up to be one of the must-play live tournaments towards the end of 2011. Players can win an exclusive ticket to the €1,650 Main Event and tournament package right now in the Unibet client.
Unibet Open Riga €2,500 Tournament Package
Main Event buy-in - €1,500 + €150
Four nights accommodation
Spending money - €300
Breakfast and dinner daily during the tournament
The last Unibet Open event was played in August in Dublin, Ireland and it was a huge success which saw a €390,000 prize pool up for grabs. The winner of that event was Paul Vas Nunes and he pocketed €105,300.00.
The best part about the Unibet Open Riga is that the field is not capped at 400 players like most of the Unibet Open events have been in the past. This means that there is sure to be an even bigger prize pool than the Dublin event.
Unibet Riga is being hosted at the glamorous Royal Casino during the snow season and there is sure to be plenty of festivities as Unibet hosts an exclusive players party on Dec. 3.
Make sure you to take to the tables at Unibet Poker and don't miss out on a Unibet Open Riga tournament package.
How to Qualify for Riga
Unibet Poker is offering several ways for players to win a €2,500 tournament package, including freeroll qualifiers and a tournament leader board.
The easiest way to qualify for the Riga Open is to start playing in the daily freerolls and cheap-rolls and make your way up the various qualifying levels until you win a seat into either the Weekly Tuesday Final or Weekly Sunday Final.
The Weekly Final events each award a full tournament package for every €2,500 in the prize pool and can of course be directly bought into. See the image below for an outline of the various qualifying levels.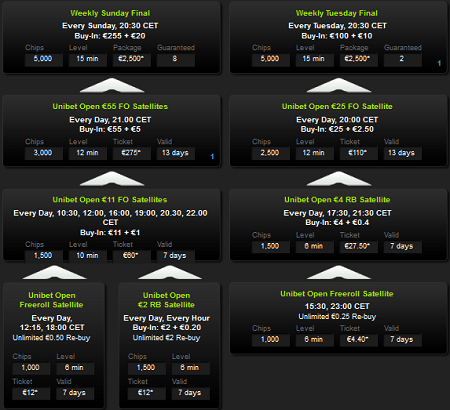 Player also have the chance to qualify for a tournament package through Sit n Go Steps, whereby a tournament package can be acquired by working your way up the steps starting from a €0.60 Sit n Go Step. Each step level runs around the clock and offers a handy alternative to those who can't play in the above daily and weekly events.
If you don't have a Uni Bet Poker account yet but like the sounds of winning an Open Riga tournament package, then you should claim a €1,000 bonus and you can get that bonus no matter what you deposit.
Head to the Unibet Welcome Bonus page and find out how you can get your no strings attached €1,000 bonus and then join Unibet Poker through PokerNews and start qualifying for the Unibet Riga Open!
If you experience any problems with this or any of our promotions, please contact our Ticketed Promo Support System.