Win Your Share of $20,000 in the PokerNews PokerStars Freeroll!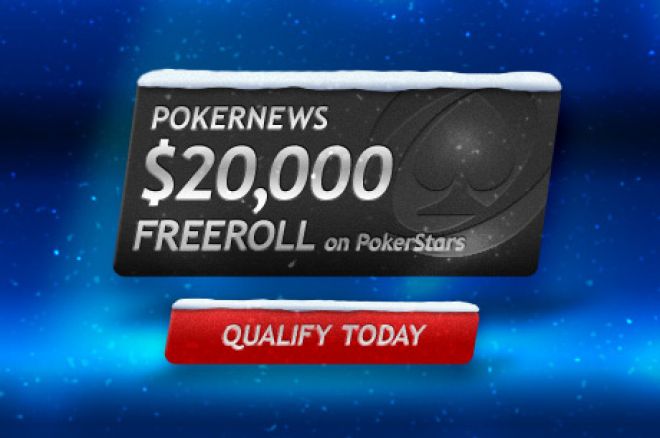 The festive period is well and truly over and it is time for poker players around the world to get back to business — the business of building bankrolls and winning huge sums of money! One way to ensure 2012 kicks off in the best possible way is to download PokerStars and take part in the amazing PokerNews PokerStars $20,000 Freeroll.
Win A Share of $20,000
We are very excited to be able to reward our players with a share of $20,000. This exclusive freeroll is only open to new and existing PokerNews players.
This is a PokerNews exclusive promotion which means you will only be playing against opponents who have downloaded PokerStars through PokerNews, limiting the field and increasing the chances of you walking away with the lion's share of the spoils.
New Players Automatically Receive A Seat!
New PokerNews players have the easiest route to the $20,000 freeroll because all they need to do is sign up for a PokerStars account through PokerNews and make their first deposit. It is as simple as that. No VPP requirements — nothing!
Remember to use the marketing code POKERNEWS.COM and the bonus code STARS600 when creating your account and making your first bonus because doing so means you will be eligible for a 100% up to $600 first deposit bonus too!
Existing PokerNews Players Can Play Too!
Qualification for this fantastic $20,000 freeroll is extremely easy and even players who frequent the micro-stakes games should be able to earn enough VPPs during the qualification period, which ends on Jan. 27.
Entry to the tournament on Jan. 31 at 1400 EST (1900 GMT) will be granted to anyone who earns just 45VPPs before midnight on Jan. 27 and with such a small requirement there really is no excuse not to hit the tables and earn your seat in this brilliant promotion.
Don't Miss Out
The PokerNews $20,000 PokerStars Freeroll is going to award free money, and everyone loves free money so there are no excuses for missing this great event.
PokerNews $20,000 PokerStars Freeroll
Date: Jan. 31
Time: 1400 EST (1900 GMT)
Qualification Period: Dec. 20 – Jan. 27
Existing PokerNews Players: Earn 45 VPPs to qualify
New PokerNews Players: Make a first deposit to qualify
Prize Pool: $20,000
Becoming a PokerNews player on PokerStars not only allows you to participate in the $20,000 Freeroll but you will also be eligible for the aforementioned 100% up to $600 first deposit bonus and be able to take part in any future promotions between PokerStars and ourselves in the coming months.
If you experience any problems with this or any of our promotions, please contact our Ticketed Promo Support System.
Follow PokerNews on Twitter for up-to-the-minute news.