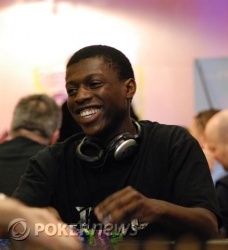 The players at Kofi Farkye's table are starting to get a little annoyed as he sits behind a massive stack of chips and continues to remain aggressive. In a recent pot, Farkye raised from under the gun to 1,550 and one particular player gave Farkye some friendly verbal warfare including, "You're eating steak tonight, when I've only got enough here for rice!" before reluctantly folding. The small blind was the only player to make the call.
The flop came down



and the small blind checked to Farkye, who fired 2,175 and took it down. He flashed

for the nut straight as the same player quipped, "You can add nuts to that too!"
A few moments later, Farkye was at it again, check-raising all in over the top of his opponent's 2,400 bet on a flop of


. His opponent called with

for a flush draw as Farkye remarkably held the best hand with


. The turn was the

, completing the flush, but a fourth heart fell on the river, the
, giving Farkye a bigger flush to eliminate another opponent!
Farkye now sits behind 85,000 with a clear chip lead over the field as we approach the end of the day's play.