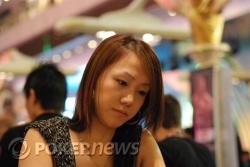 Celina Lin is the latest player eliminated. She made it 1,300 to go preflop and found one caller, Daisy Wain, who had limped into the pot. On a flop of


, Wain checked to Lin, who bet 2,000. She was immediately check-raised by Wain to 4,000, a raise that Lin called.
When the turn came

, Wain bet 6,000. Lin, with 14,00 left in her stack, moved all in. Wain snap-called with

for a set of fives. Lin turned over

for an overpair. She did not catch a miracle queen on the river. Since her opponent had her covered, Lin was bounced from the tournament.
Wain has 49,000.