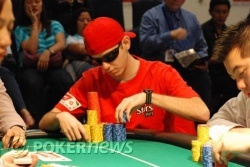 Right after Dong-bin Han survived against Kevin Clark, he was mixing it up again, this time with David Hilton.
Flop:



Both players checked, and

came out on the turn.
Dong-bin bet out for around 100,000 and was flat-called by David.
The turn was

and Dong-bin bet out again, this time for 290,000, and finally got David to fold.