Level:

4
Blinds:

150/300
Ante:

25
So much for watching Young Phan accumulate chips. By the time we got back to his table he was down to about 35,000 chips. Judging from the stacks at the table, we figured (and later confirmed) that the chips wound up in the stack of Kris Cunz.
"I sucked out on him reeeeeeeal good," said Cunz. "Gamble, gamble my friend."
Cunz seems to have been blessed by the God of Fortune. We saw him win a heads-up pot with king-high

, betting 750 on the



flop and 2,300 on the

turn. Both players checked the

river, where Cunz's king played.
He is up to 47,000.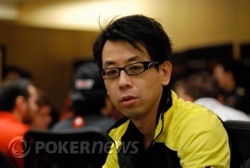 Catching the action on the board reading



, Winfred Yu lead out with a 10,000-chip bet into two opponent's.
With only 9,150 left in his stack; one opponent called the all in as the other passed.
Yu:


Opponent:

Only one out would see Yu lose the pot following both players flopping sets, and once the
landed on the river, Yu stacked up to 45,000 as he sent an opponent to the rail.
According to the big board, we've only lost 11 players so far today. It's therefore been noted on Media Row how impressive it is that Young Phan has already accumulated more than 60,000 chips. Those chips represent his original stack plus the stack of two other players. We'll be keeping a close eye on Phan, known for his loose-aggressive tendencies, to see if he can continue to accumulate chips at such an exceptional rate.
Every once in a while we see players take a line that is unorthodox. Ivan Tan's opponent did that in a hand that just went down. His open-raise from under the gun was standard, to 700. Tan called and so did the button. It was what happened after the



flop that was unusual.
Tan's opponent made a very weak lead of 500 chips into the 2,400 chip pot. Tan raised that bet to 1,600, driving the button out of the pot. The under-the-gun player then made an (illegal) re-raise to 2,600. Nobody at the table seemed to notice that the raise was 100 chips less than would be required for a minimum raise. If Tan noticed, he said nothing, choosing instead to call.
The turn was the

. Tan's opponent again made a suspiciously small bet of 2,300 chips into a pot with 7,600 chips in it. But it wasn't enough to induce another call from Tan. He folded, preserving his count at 16,250.
"Ah, you've got me," said Chris Moneymaker as Andrew Chen tabled his hand. Chen was all in preflop for 6,725 and Moneymaker was in there with him. Chen's


was one rank better than Moneymaker's


. There was no help for either player on board, giving Chen the double-up. He's up to about 14,000; Moneymaker has fallen to 18,500.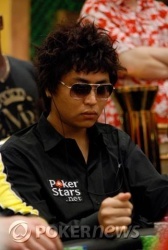 The only Korean national on PokerStars Team Asia Pro is 25-year-old Tae Joon 'skat tilt' Noh. Born in Seoul, Korea, Noh migrated into the world of professional poker from the competitive gaming scene. A former Warcraft 3 specialist, Noh recognized that the future looked grim for competitive Warcraft players and so he decided to take up poker.
Having met several friends in the gaming world who'd made the same career move, Noh turned to them for poker lessons and in no time, found himself multitabling on PokerStars. Since then, Noh has advanced to Supernova Elite status on PokerStars and can often be found online playing as many as 24 tables at a time.
Noh's live game has taken great strides over the past year as well. At last year's APPT Manila Main Event, Noh took part in an epic heads-up battle against Australia's Van Marcus that lasted over six hours. Noh ultimately finished runner-up in that event, but earned a very respectable USD $103,760 payday for his efforts -- his largest score to date.
To catch Noh in action, search for the screenname 'skat tilt' on
PokerStars
.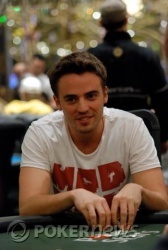 On a board reading



Tom Rafferty fired out 2,200 at the pot, only to be check-raised to 5,700.
Rafferty looked his opponent up and down several times over, then back at the board, before making the call to see the

land on the turn.
His opponent threw out a single yellow 5,000-denomination chip to put Rafferty in the tank.
After several minutes Rafferty moved all in for roughly 19,000 to prompt a quick fold from his opponent as he stacked his chips to over 34,000 and change.
As anyone who has been on the APPT circuit knows, Commissioner Danny McDonagh's tournaments play under the rubric that a difference of two at tables is fine. That is, with play at most tables nine-handed, it's ok if one table loses two players. They can continue to play seven-handed without a player being broken to the table to balance it to eight players.

Huntly and two other players are unhappy with this. "Ten to eight would be fine," said one player, "but nine to seven is completely different." Another player added, "If I wanted to play seven-handed, I'd have signed up for the side event!"

A table was broken five minutes later so it wound up not to matter much.
Level:

3
Blinds:

100/200
Ante:

25