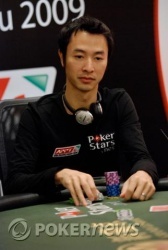 Four players saw a flop of



for just 300 each, and once the action checked round to Michael Marvanek on the button; he fired out 650.
The small blind made the call, along with Dave 'leewah' Lee in the big, before the original raiser passed.
All three players checked the

on the turn to see the

fall on the river and a bet of 1,800 follow from Lee.
Marvanek sat contemplating his decision while staring firstly at the board, then at Lee, then back at the board.
Eventually the fellow Australian threw in two blue 1,000-denomination chips to make the call as the the small blind quickly mucked his cards.
Lee sheepishly turned over his

for a turned two-pair as Marvanek tossed his cards into the muck to see the pot pushed to the younger of the birthday boys - as both Marvanek and Lee celebrated their 35th and 33rd birthday respectively yesterday.