Main Event
Day 3 completed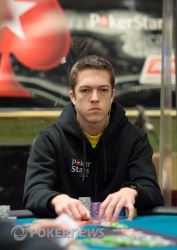 Done and dusted, that's just how we like it. And for the remaining nine players left in the field, they couldn't be happier having made the 2010 APPT Macau final table!
The day began with 44 players returning to action, just a few spots away from the money. Within the first couple levels of play, the bubble burst with the elimination of Takashi Ogura in 41st place. It was a steady pace all day long and action never really seemed to come to a complete halt like most other tournaments do the deeper they run.
Making the money were Brendon Rubie, Henrik Gwinner and Darren Judges, but all of them fell short of the final table. Team PokerStars Netherlands pro Marcel Luske also cashed and represented the host site as their only in-the-money finisher. Binh Nguyen won the last APPT stop in Manilla back in March and capped off an amazing back-to-back run with a 13th-place finish here in Macau.
The chip lead was occupied by only a few names throughout the course of the day. Chong Cheong (known until now as John Chong), Kai Paulsen, TJ Vorapanich and Jeppe Drivsholm all held the chip lead during the course of action today, but Cole Swannack stormed to the top of the chart at the end of the day thanks to a massive double up he earned from Cheong. Swannack finished out the day with 1.262 million chips and will be the player everyone's gunning for tomorrow.
Also making the final table is Albert Kim, who made a deep run in the 2008 WSOP Main Event. He finished in 19th place there and will be looking to show the world that his deep run there wasn't just a fluke.
Here's how the final table stacks up.
Seat 1: Victorino Torres - 396,000
Seat 2: Kai Paulsen - 528,000
Seat 3: Jeppe Drivsholm - 1,223,000
Seat 4: Keith Hawkins - 174,000
Seat 5: Albert Kim - 436,000
Seat 6: Chong Cheong - 904,000
Seat 7: Cole Swannack - 1,262,000
Seat 8: Brian Green - 970,000
Seat 9: Kenny Nielsen - 791,000
Play resumes tomorrow at 12:15 p.m. local time here at the Grand Lisboa Hotel and Casino. Top prize is worth 3,246,200 HKD and you cn bet that all nine of the remaining players are licking their chops about it. We'll see you right back here at PokerNews then.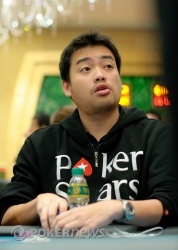 In early position, John Chong raised it up to 38,000, and Cole Swannack made the call next door. Action came around to the teeny-stacked of Wee Yee Tan, and he moved all in for 98,000 total. Chong quickly called, but Swannack announced an all-in reshove to try and get heads up against Tan. It worked; Chong shook his head and mumbled something in his native language before sliding his cards back to the dealer. It was good news for Tan, now looking for a triple up against just one set of hole cards.
Showdown
Swannack:


Tan:

We couldn't tell what Chong folded, but he was standing behind his chair, glaring at Swannack and turning a certain shade of red as his head shook like it was on a spring. In any event, the flop was no fun at all for Tan, coming out



. The

on the turn left him drawing dead to the

river, and Wee Yee Tan has been knocked off in 10th place. He'll pick up a check for 178,200 HKD on his way out the door, falling just one spot shy of a seat at tomorrow's final table.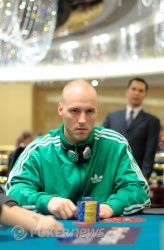 Brian Green moved all in from the small blind with


, and Jonas Kronwitter was happy to call in the big blind with


. Unfortunately for Kronwitter, the flop came



. The
on the turn left Kronwitter with just the case ten on the river, but the

wasn't what he needed. He gets HK$178,200 for 11th place. After adding Kronwitter's 200k stack to his own pile, Brian Green is very close to 800k.
Jeppe Drivsholm raised preflop to 36,000 and John Chong made the call in the next seat. Wee Yee Tan also called and he was in the big blind. The flop came down


and action checked around. The turn was the

and Tan fired 56,000. Drivsholm called and Chong folded.
The river was the

and Tan fired 105,000, leaving himself with 100,000 behind. Drivsholm put him all in and Drivsholm folded his hand. Drivsholm showed the

only and scooped in the pot. Tan is now the shortest stack in the tournament.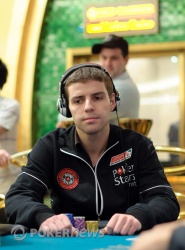 From the cutoff seat, Samuel Aronov opened the pot with a raise to 40,000. That folded the table to John Chong's big blind, and Chong quickly stacked out a reraise to 136,000 and slid it across the felt. Aronov didn't waste too much time moving all in for a bit over 300,000, and Chong quickly called to put his man at risk.
Showdown
Aronov:



Chong:


The flop was dry and the turn was a disaster, and the board of





left Aronov drawing dead by fourth street and resigned to his 12th-place finish. He'll pocket 178,200 HKD for his work over the past three days.
Here's a look at the 12 remaining stacks left in play. Cole Swannack is leading the way.
Cole Swannack

1,152,000

Jeppe Drivsholm

905,000
5,000

Kenny Nielsen

PokerStars Qualifier

710,000
10,000

Kai Paulsen

695,000
145,000

Chong Cheong

621,000

Brian Green

520,000
-100,000

Victorino Torres

PokerStars

465,000
40,000

Albert Kim

418,000
-355,000

Wee Yee Tan

360,000
-15,000

Samuel Aronov

PokerStars Qualifier

360,000
-130,000

Jonas Kronwitter

200,000

Keith Hawkins

175,000
-17,000
Level:

21
Blinds:

8,000/16,000
Ante:

2,000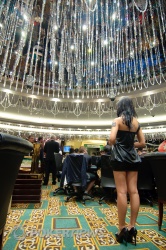 With twelve left, it's time for another break. Please let the water girls/stunning models in six inch platform heels sit down.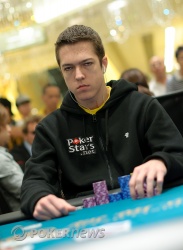 Samuel Aronov raised from under the gun to 32,000. John Chong flatted on the button and then Cole Swannack reraised to 92,000. Aronov folded, but Chong came along for the ride. And what a ride it was about to be for Chong.
The flop came down



and Swannack fired a bet of 104,000. Chong instantly announced all in and Swannack called equally as fast. Chong held the


, but was crushed by the


of Swannack.
The turn brought the
and the river the
. Chong couldn't find another nine and was forced to ship over a massive portion of his stack to Swannack. Swannack was all in for 458,000 total on the flop and now is the new chip leader with about 1.15 million chips. Chong was left with 621,000.