Main Event
Day 1b completed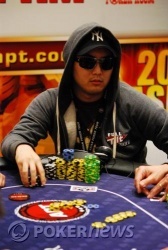 Day 1b of the 2009 Asian Poker Tour Philippines Main Event is over. 187 players started day, more than twice as many as were in the field yesterday. 50 ended the day still in their seats.

Nearly all of the well-known professionals that opted to play in this tournament were in the field today; not all did so well. David Steicke and Quinn Do were early departures, but many others fared reasonably well. Chino Rheem, Ivan Tan, Bryan Huang, David Saab, Liz Lieu and Andrew Scott will all return for Day 2.

Everyone who does return tomorrow will be chasing APT Macau runner-up Steven Yea. Yea crushed the field today, finishing with 122,700 chips in his stack. Quickly eyeballing the field, we didn't see anyone else who was even over 100,000. Yea has significantly more chips than the Day 1a leader, Neil Arce (85,800).

69 survivors are in the Day 2 field. 27 of them will make the money. Play kicks off at 12 noon local time. We'll see you then.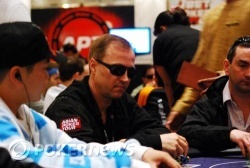 Ron Kluber is ending the day on an upswing. His stack has ticked up to about 33,000, which puts him roughly on par. He wants to send out the best birthday wishes to his Uncle Ferdie, who turns 100 years old on February 1.

"He's the oldest Kluber in the world," Kluber said as he raised up another pot preflop and took it down uncontested.
Ivan Tan is using every trick in the book to relieve Chino Rheem of as many chips as he can before the night is over. With 13,000 in the pot on a board of




, Rheem bet 4,200. Tan tanked for two minutes before making the call. The river fell
. Rheem checked, then folded after Tan moved all in. Once the pot was secure, Tan turned over a stone bluff --


.
Tan is up to 56,000 now, a height from which Rheem has descended to 33,000.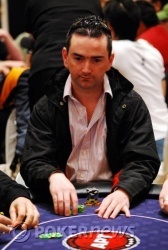 There has been some friendly banter between tablemates Sylvester Geoghegan and David 'Chino' Rheem for sometime now. Rheem dared Geoghegan to move all in dark on his button, and therefore Rheem's big blind, and Rheem would make the call dark.
Geoghegan got his chance when it was folded to him on the button and he moved all in for his last 8,800. Nam Le folded in disgust as Rheem called and threw the chips into the middle.
Geoghegan:

Rheem:


It was a race of the unusual kind, in which Rheem came out on top when the board ran out





. Geoghegan headed to the rail as Rheem climbed back above the 40,000 mark.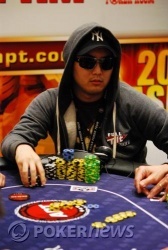 Play has slowed down and players are chasing chipleader Steven Yea, who sits atop of the leaderboard with over 140,000 chips.

Yea can relax a little, as it looks like he'll head into Day 2 with the clear chip lead. Nam Le (88,000), John O'Shea (66,000), and Bryan Huang (62,000) are his closest counterparts.
Nam Le is known as a very aggressive poker player. Ivan Tan fought that the only way he could -- with aggression of his own. With the board showing




and 8,500 in the pot, Tan moved all in for 14,200 more. Le thought it over for a while before reluctantly folding his hand.
Tan's up to 22,700.
David Saab has never been accused of having a narrow range. He defended his big blind against a small blind raise to 2,000, then called another 3,000 on a flop of



. The small blind fired again for 4,000 when the turn fell

. Saab, always fearless, called that bet too.
Both players shut down on the

river. The small blind turned over an unimproved


; Saab showed


for two pair, tens and nines, and the winner. He's up to 53,500.
Level:

10
Blinds:

500/1,000
Ante:

100