Level:

6
Blinds:

150/300
Ante:

25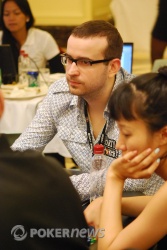 On a flop of


, Andrew Vasilyev went all-in for his last 7,600 and his lone opponent tanked for a while before finally making the call.
Andrew:



Opponent:


Andrew was ahead with pocket kings but he still needed to dodge a lot of cards because of the other player's open-ended straight draw.
The turn

and river

blanked out and Andrew pumped his fist into the air as he got a big double-up to about 20,000.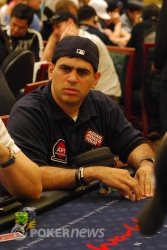 After being moved to a table with players like Quinn Do, Kwang Soo Lee, Lei Long, and Andrew Scott, Amnon Filippi wasted no time getting himself acquainted with the players.
Pre-flop, Kwang Soo made a raise to 600 and got callers in two other players. Action went over to Amnon, who pushed his whole stack of about 7,800 into the middle. The player next to him, who was in the blinds, agonized for a while before giving up his hand.
Kwang Soo and the other players likewise got out of the way, and Amnon flipped over


for his seatmate to see. "See? Don't be so upset, your hand was no good," he joked with the player.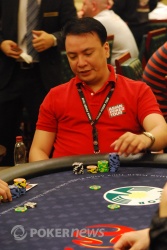 On a turn of



, a short-stacked Chinese player went all-in for his remaining 3,500 and got a caller in Eddie.
"Pair two!" the all-in player exclaimed as he saw that he was ahead against Eddie's


.
His jubilation would only last for a few seconds, though, as the

appeared on the river to complete Eddie's diamond flush and bust him out of Day 1B.
Eddie is now at about 22,000.
Level:

5
Blinds:

100/200
Ante:

25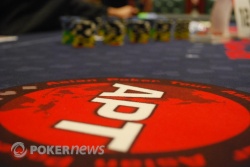 We're now on a 50 minute dinner break. When players get back, we'll get underway with Level 5. See you all in a bit!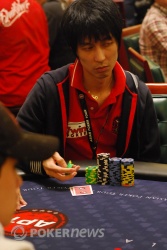 A player has just busted out minutes shy of the dinner table courtesy of Kwang Soo Lee.
On a flop of



, Kwang Soo bet 3,000 and had a player go all-in for a little over 8,000 in chips. Kwang Soo made the call and the cards were tabled:
Kwang Soo:



Opponent:


Kwang was in prime position to win the pot as he had flopped the set of threes. The turn and river blanked out, busting out a player and giving Kwang Soo almost 39,000 in chips.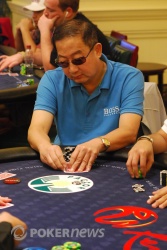 Joy So's run in the 2010 APT Philippines has unhappily ended. Especially of course if you're holding the big slick before you went out.
As the hand went down to the Joy So (low-jack position) versus Henry Lim (cutoff). Pre-flop, So raised to 600 which is to be called by Lim.
Flop:


Acting first, Lim forced So to go all-in by betting 2000. So did just that as she showed


but Lim's


was still a threatening hand with a straight draw.
The turn

had no help for Lim but the river
gave him the straight which was too much So's trips.
We are now down to 105 players.
The players must be thinking about dinner already as play has slowed down over the last level.
We've spotted a couple of all-ins but nobody has been taking the bait thus far. 109 are still left in the field; we are about ten minutes away from the dinner break.