Main Event
Day 3 completed
Day 3 is finally over as the final nine for tomorrow's TV table has been set!
Mike Puno and Bryan Huang dominated throughout the second half of the day and they end up as our top two chip leaders, with Mike taking the overall lead with 863,000 after that last hand.
The chips have all been bagged up and the players are now headed to the party, where they will enjoy a night of fun before coming back tomorrow to resume the action at 2:00 pm.
See you all tomorrow!
| | | | | | |
| --- | --- | --- | --- | --- | --- |
| Mike Puno | | | | 863,000 | 293,000 |
| Bryan Huang | | | | 828,000 | 148,000 |
| Lee Changhun | | | | 415,000 | 40,000 |
| Li You Nan | | | | 319,000 | 139,000 |
| Ben Meredith | | | | 245,000 | 25,000 |
| Tonypet Albano | | | | 244,000 | -56,000 |
| Stephen Lim | | | | 195,000 | 95,000 |
| Tracy Hugh | | | | 151,000 | 41,000 |
| Michael Cua | | | | 146,000 | -84,000 |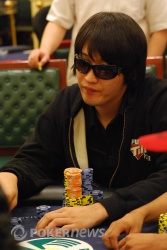 Somyung Sim just experienced a bad beat that he'll probably be remembering for years to come.
Pre-flop, Somyung and Mike Puno got their stacks all-in, but it looked set for a chop as both had ace-queen.
Somyung:



Mike:


A loud shout came from the crowd as two hearts came on the flop of



, and a horrified Somyung could only watch as a third heart came on the turn of

to give Mike the nut flush and leave him drawing dead.
After the meaningless river

was dealt, all the chips were sent Mike's way. We now have the final nine for tomorrow's TV table!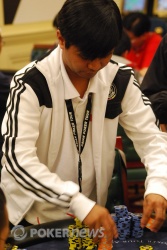 Pre-flop, Lee Changhun raised from the button and Ramil decided to go all-in from the big blind. Lee made the call and the cards were tabled:
Lee:


Ramil:


Ramil was ahead pre-flop but it would be a horrible flop for him as it came


to give Lee the pair of sixes.
The turn

and river

did nothing to change Lee's lead, sending Ramil out of the tournament with US $8,800 in winnings.
On a flop of


, Mike Puno bet out 30,000 and Tony Albano made the call.
When the

came on the turn, Mike painfully checked over to Tony, who slid a small bet of 20,000 into the pot. Mike made the call.
Both players then proceeded to check down the river of
. When Mike showed his

for the diamond flush, Tony, who had only hit a pair of tens with no diamonds, exclaimed to the dealer, "Why did you have to give that river?!"
"You gave me such good odds to call," replied Mike.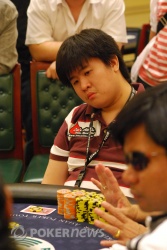 Stephen Lim has just doubled up after getting it all-in against Somyung Sim.
Pre-flop, Li You Nan made a raise and Somyung made the call. Action went over to Stephen, who declared he was all-in. Li thought the better of it but it was a different story with Somyung, who quickly made the call.
Somyung:



Stephen:

Stephen immediately hit on the flop as it came out



to give him top pair. The turn and river brought the

and

, respectively, and Stephen got a much needed double-up to stay alive.
While the board was being dealt, it was easy to see Li visibly upset. Apparently, he had folded pocket sixes, and would have ended up hitting quads had he made the call.
Level:

21
Blinds:

5,000/10,000
Ante:

1,000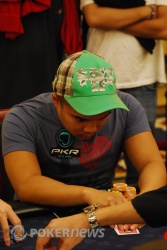 With less than 70,000 in chips left, Kai Paulsen got his stack all-in and got a caller in Ramil Tandoc from the small blind.
It was already bad for Kai as the flop came


, giving Ramil top pair with top kicker.
The turn was a blank

and the river only cemented Ramil's win as it brought the

.
Kai gets US $8,800 for exiting in 12th place.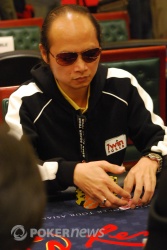 Pre-flop, Li You Nan got it all-in from the hi-jack and Kai Paulsen, with a bigger stack, went all-in as well. Everybody got out of the way and the cards were tabled:
Kai:



Li:

The board ran out





and Li got a huge double-up to about 300,000 while leaving Kai in big trouble with just 70,000 left.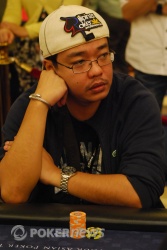 Pre-flop, everybody folded to Jay Tolon in the hi-jack, who declared he was all-in for his stack of less than 80,000 in chips. Everybody got out of the way except for big blind Somyung Sim, who instantly called.
Jay:


Somyung:

Jay would need to catch some cards but nothing came for him on the flop of



. It got worse on the turn when the

came to give Somyung the set.
Needing a five and only a five to hit a straight and stay alive, Jay instead got a meaningless

, sending him out of the tournament and leaving us with twelve more players in the main event.