Main Event
Day 2 completed
We are finally down to the 14 players who will return to play tomorrow. Here are the top five chip counts:

Tony Albano {1,287,000)
Jojo Tech (1,171,000)
Alfredo Tan (1,062,000)
Jade Triste (1,056,000)
Harri Bolz (939,000)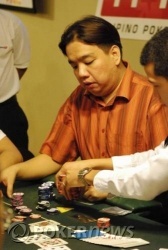 Alvin Tiu has been busted out by his nemesis ,in the later levels, Mauri Bulagitian. Alvin had pocket Queens on the button and pushed all in only to be called by Mauri in the small blind holding


.
The board ran out





.
Alvin finished in 15th place and the tournament was halted.
Play will begin again at 2pm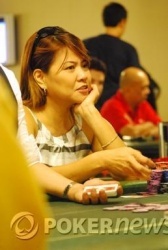 Amalia Santos has just busted out of the tournament in 16th place.
After losing the previous hand to Harri Bolz's


when she held


, the exact same thing happened to her when she got the rest of her stack in against Jojo Tech.
An

came on the flop and the turn and river produced nothing to seal her doom and boot her out.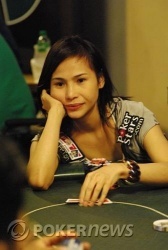 Pre-flop, Jade Triste went all-in with her short stack. However, it looked bad for her as two players called - Ricky Foo and Amalia Santos.
The cards were dealt first before the cards were shown, since Ricky Foo and Amalia Santos still had to duke it out.
When three hearts came on the flop, though, Jade jumped up and screamed for joy along with the group of people who had come to support her.
After the tournament director stepped in to settle everybody down, Amalia went all-in and got a fold from Ricky.
Amalia showed two red aces while Jade tabled


for the flopped flush. The board ran out with no additional help for Amalia, giving the pot to Jade.
Afterwards, tournament director Bryan Malantic told all non-relevant spectators to clear out of the tournament area immediately and imposed a one-hand penalty on Jade for revealing hand information prematurely.
In any event, it does not look like it matters to Jade as she triples up with the lucky flop.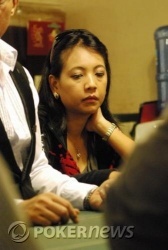 After having Richie Chua dent her stack when he got lucky on a previous hand, Rowena Erquiaga got the rest of her stack in with


against Richie, who tabled


.
Two queens came on the board and Richie's trip queens bust out Rowena in 17th place.
Level:

24
Blinds:

20,000/40,000
Ante:

4,000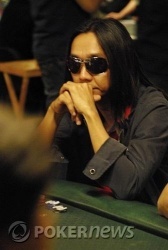 Marvin Fernandez just busted out in 18th place on a huge heartbreaker of a play.

Pre-flop, Alfredo Tan pushed all-in with pocket fours only to get called by Marvin with pocket aces.

The flop and turn produced nothing for both players. However, a four came on the river to boot Marvin out of the tournament on a sick bad beat.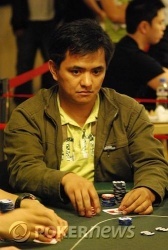 While play still drags on, three big stacks have emerged. Red Edoc and Tony Albano both have over a million in chips while Ricky Foo has about 900,000.
Level:

23
Blinds:

15,000/30,000
Ante:

3,000