Event Info
Level Info
| | |
| --- | --- |
| Level | 18 |
| Blinds | 100,000 / 200,000 |
| Ante | 20,000 |
Main event
Day 2 completed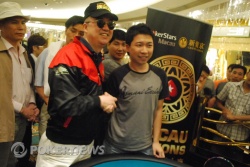 We have a winner here at PokerStars Macau! Hong Kong poker player Justin Chan overcame a huge field to win the first-ever Macau Millions tournament.
The main event attracted a total of 741 entries, setting a regional record and breaking the guaranteed prize pool of HK $1,000,000.
He built up his chips and started to make his impact during the second half of the day, eliminating players left and right and building up a big stack.
Finally, after almost two and a half hours dueling with Tom Chou and Lei "Alex" Long, Alex was eliminated and Justin found himself one-on-one with the veteran poker player.
That match-up didn't last very long. In fact, it was all over on the very first hand after the two got their stacks all-in with Justin holding


against Tom's


. An eight on the flop and blanks on the turn and river sealed the victory for Justin, netting him a cool HK $275,000 in the process.
From all of us here at PokerStars Macau, it's been a fun five days doing live coverage of the Macau Millions. Thanks to PokerStars, the tournament staff, the players, and everybody at the Grand Lisboa for a great experience.
Visit Asia PokerNews regularly to get all the latest news from Asia, including where we'll be doing live reporting next.
To find out more, you can also join Asia PokerNews on Facebook and follow us on Twitter!
From PokerStars Macau, we're signing out. See you all soon!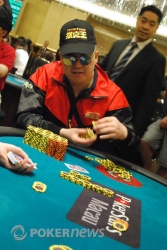 Considering the fact that it took almost two and a half hours for someone to bust out of three-handed play, we thought that we were in for another lengthy bout of poker action between Justin Chan and Tom Chou.
Boy, were we wrong.
On the very first hand of heads-up play, Justin shoved all-in with his stack of about 5.8 million and Tom made the call for his remaining 1.5 million.
Justin:



Tom:


Just like many of the all-in moments during three-handed play, this one was another coin flip, with Tom slightly ahead.
His lead wouldn't last long, though, as the flop came



to give Justin top pair.
The turn

did not not help either, giving him just one last shot at getting a king.
It never came as the river brought the
, eliminating Tom in second place. We're sure he's pretty happy with his results, though. After all, Tom, who works as floor manager for the WSOP, takes home HK $200,000 for his efforts.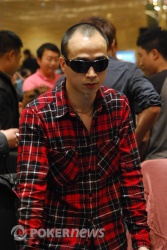 After Tom Chou doubled off of Lei "Alex" Long earlier, Lei decided to go all-in again and got a caller in Justin Chan.
Unfortunately for Lei, his


was far behind the


of Justin and he would need to get lucky to pull it off.
The crowd gasped as the flop came



, giving Justin top pair but arming Lei with an open-ended straight draw.
It got even more interesting as the

landed on the turn. Justin got additional outs because of the heart-flush draw but any ace would eliminate him because it would give his opponent the full house.
It wasn't meant to be for Lei, as the

came on the river to finally give us our first bust-out after a lengthy bout of three-handed play.
For his third place finish, Lei received HK $130,000 in prize money.
We are now heads-up!
Level:

18
Blinds:

100,000/200,000
Ante:

20,000
It's been virtually a merry-go-round here between these three players as they have all taken turns being chip leader and short stack.
After getting to about 900,000 in chips earlier, Lei Long shoved all-in from the big blind and small blind Tom Chou made the call.
Lei:



Tom:


It was pretty much a coin toss and Lei drew first blood as the flop came



.
That lead turned into a stranglehold as the

appeared on the turn, giving him two-pair.
The river blanked out and Lei's stack is now at more than 2.5 million in chips.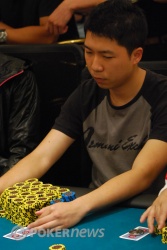 After being down to less than 500,000 earlier, Justin Chan has made the remarkable climb back and is now at over 2.7 million in chips.
Pre-flop, Justin raised to 575,000, more than a third of his entire stack. Small blind Tom Chou got out of the way and action went over to Lei Long, who declared he was all-in.
After tanking for a minute or two, Justin made the call and it turned out to be a great one:
Justin:


Lei:


The board ran out




and Justin got the big double-up to 2,720,000 in chips while Lei is now down to 890,000.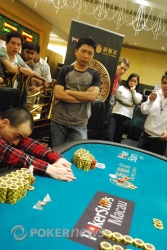 The audience quickly perked up as Lei Long moved all-in from the small blind and big blind Justin Chan snap-called.
Justin:



Lei:


"Low cards!" exclaimed Justin to the dealer.
He got his wish as the flop came


, keeping him ahead.
It was all over by the turn as the

appeared, giving Justin the full house and leading Lei drawing dead.
Justin is now back up to over 900,000.
Level:

17
Blinds:

80,000/160,000
Ante:

20,000