Red Dragon HK $2,000,000 Guaranteed
Day 2 completed
After six levels of play, Day 2 is finally finished here at the Red Dragon main event! A total of 37 players will return tomorrow at noon to try and become the next MPC champion.
Leading the way is PokerStars Team Asia Pro Bryan Huang, who has 186,500 in chips after being one of the chip leaders throughout Day 2. Hot on his heels is Tomoki Yasuda, who used a late surge to build a stack of 182,000.
The winner tomorrow will receive HK $620,100, with the top 31 getting cash prizes.
Here are the top ten stacks for today, see you all tomorrow at 12:10 pm!
| | | | | | |
| --- | --- | --- | --- | --- | --- |
| Bryan Huang | | | | 186,500 | |
| Tomoki Yasuda | | | | 182,000 | -10,000 |
| I-tsau Wang | | | | 152,500 | |
| Hanbing Wang | | | | 146,500 | |
| Anthony James Taylor | | | | 132,000 | |
| Ricky Foo | | | | 121,500 | |
| | | | | 121,000 | |
| Jojo Tech | | | | 115,000 | |
| | | | | 113,000 | |
| Carlos Chang | | | | 109,500 | |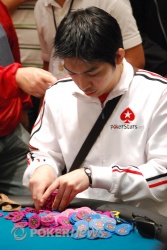 Jojo Tech built up a big stack a few hands ago with pocket queens but this time lost a bit of it while holding pocket aces.
Pre-flop, Jojo was in good shape to take the rest of a short stacked player's chips after his opponent went all-in with


against Jojo's


.
As luck would have it, the board ran out





to give the small stack an unlikely flush, sending him into a frenzied celebration.
Jojo is now down to about 115,000.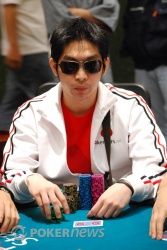 Jojo Tech is now one of the chip leaders of the tournament after winning a big hand against In Sun Geoum.
Pre-flop, the In Sun went all-in from under the gun and everybody folded to Jojo, who made the call.
Jojo:



Opponent:


In Sun was already regretting his decision as soon as Jojo called and he could do nothing but watch as the board ran out





to eliminate him.
Jojo is now at about 165,000 in chips.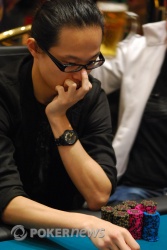 Tomoki Yasuda is now one of the chip leaders after doubling off of fellow big stack Jacky Zhang.
On a flop of



, Jacky made a big raise and Tomoki made the call.
When the
came on the turn, Jacky moved all-in and was surprised as Tomoki snap called him and showed


for the flopped set. Jacky, on the other hand, only had


for a stone cold bluff.
The river was a meaningless

and Tomoki is now at about 200,000 while Jacky is left with 4,000.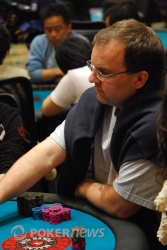 Eliminations are coming at a faster pace now as the field closes in on 40 players.
On a recent hand, it was Phil Muscarello doing the busting out as he called an all-in and showed


against the at-risk player's


.
The board ran out




and another player has been sent to the rail.
Victor Chen, a well known figure on the Macau Poker Cup scene, is now near the century mark after winning some big hands in the last few levels.
A while ago, a player went all-in with pocket eights only to run into Victor's pocket queens.
The board ran out




to eliminate the player and Victor is now at about 99,000 in chips.
Level:

15
Blinds:

3,000/6,000
Ante:

500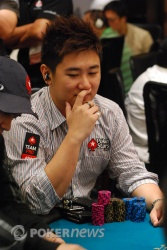 Bryan Huang must have done some pretty good things lately because his luck meter is running just as high as his skill meter.
Pre-flop, a player on his table went all-in for his last 32,000 or so and Bryan made the call.
Bryan:


Opponent:


The flop came out


and the all-in player looked to be in good shape.
A
on the turn also did no good for either player, and tournament director Danny McDonagh remarked, "Only a jack will eliminate the player now."
"Oohhh!!" came the cry from the table as the

came on the river to give Bryan the pair and knock out the other player.
"Very very lucky!" exclaimed one of his tablemates.
Lucky or not, it takes a lot of skill to go deep in a tournament, and Bryan has over 200,000 in chips to show for it.