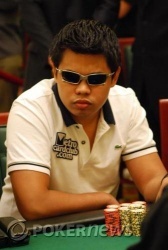 Martin Gonzales, whom his friends call the "Baby Shark," has just taken down a pot of about 110,000.
During pre-flop action, Jeon Seung Soo, who was in middle position, bet 30,000 to which Martin called. Another player, Paul Hirakawa, also flat-called.
The flop showed



. Paul and Jeon checked the flop and Martin seized the opportunity to bet out 60,000. The other two players folded their hands.