Plugged In
Day 1b completed
Here are the official chip counts from the five remaining players of Day 1B:

Richard Marquez - 177,000
Norbert Koh - 233,000
Albert Aguilar - 132,000
Maya Llamoso - 65,000
Jeff Macazo - 43,000

The average chip count for the two Day 1s combined is 105,000.

Despite having considerably less players today, some big stacks emerged at the end of play.

Tomorrow will be the last of the Day 1 flights. Players who have been eliminated from Day 1A and Day 1B may still re-enter for the chance at the Php 1,000,000 guaranteed prize pool and the bonus Asian Poker King seat worth HKD $8,000.
Day 1B is now over at the TPC: Plugged In event. We've got five players left: Richard Marquez, Norbert Koh, Albert Aguilar, Maya Llamoso, and Jeff Macazo.

It looked like they would possibly get to four on the last hand as Jeff Macazo pushed all-in with only Richard Marquez left to act in the big blind.

Richard laughed and decided to fold, showing jack-high.

We'll have the official chip counts in a while.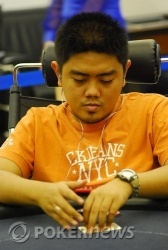 Albert Aguilar has quadrupled his stack on two heads up clashes with Jeff Macazo.
First, Albert's


held up against Jeff's


. None of the community cards improved their hands.
Next hand, they went at it again. Albert pushed all in with


and Jeff called with his


.
The flop



and turn

made it look bleak for Albert. But the river

doubled him up again.
Albert's stack has gone up to around 147,000.
With five players left for the day and the last level almost over, here's a rough update of the chip counts:

Richard Marquez - 185,000
Norbert Koh - 230,000
Albert Aguilar - 33,000
Maya Llamoso - 52,000
Jeff Macazo - 150,000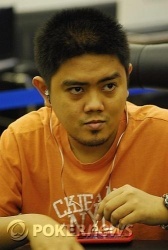 Albert Aguilar's short stack recently tripled up courtesy of calls from Norbert Koh and Jeff Macazo.
Albert pushed all his chips in pre-flop from the button which was called by the blinds - Norbert and Jeff.
The flop



, turn

and river

were checked by the blinds.
Albert tabled his


for a straight that tripled his stack.
Level:

12
Blinds:

2,500/5,000
Ante:

500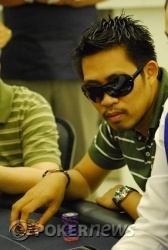 Pre-flop, Richard Marquez made a raise of 14,000 which was called by Maya Llamoso from the button.
Flop:


Richard opened for 5,000 which was immediately raised by Maya to 25,000. Richard made the call.
They checked the turn
and river

.
Richard's


gave him the higher kicker and the pot.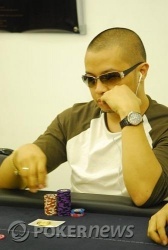 Erik Mana may be a master magician but he could not pull out a miracle a few hands ago, busting him out.
Pre-flop, Norbert Koh raised only to have Erik go all-in. Norbert instantly called and showed


, which had Erik's


dominated.
The board did not improve either player's hand, sending Erik to the rail with just one and a half level to play for the day.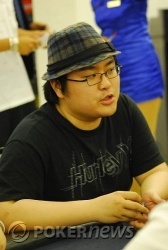 Brian Sombero has been eliminated by Maya Llamoso.
We caught the action after the flop



with Maya making it 25,000 to go. Brian tanked and moved all in and got an instant call from Maya.
Maya:


Brian:

The turn

and river

moved all Brian's chips into Maya's stack.