Main Event
Day 1 completed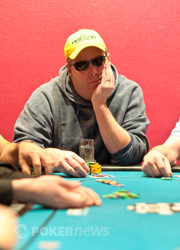 The second of two flights here at the WSOPC Harveys Lake Tahoe Main Event is in the books and about 59 players survived of the 96 that entered. Leading the field is Mark "P0ker H0" Kroon with 92,400.
Also moving on is "The Captain" Tom Franklin (30,000), Donna Jetter (34,100) and Robert Castoire (18,800).
Kroon put on a one-man show for most of the evening, entertaining players and staff alike, or anyone within earshot of him. At one point he tried convincing his tablemates that this was his first live tournament. But only moments later he began a sentence with, "When I won my second bracelet..." His table quickly called him on it and he tried telling them they were hopscotch championship bracelets. (Editor's note: Kroon doesn't have a WSOP bracelet.)
Day 2 will get underway at noon sharp on Sunday. The field is scheduled to play 14 levels or to a final table of nine, whichever comes first. Follow all the WSOPC action live on Pokernews.com
The clock has ticked down to zero, and Day 1b has run out. We'll be right back to close this long double session with a few counts and some parting words.
Donna Jetter opened the last pot to 1,600 under the gun, and the gentleman to her left flatted. Around in the small blind, a third player squeezed in a reraise to 5,400, but Jetter was undeterred. She didn't waste much time shoving all in for 27,000 total, and that folded both opponents in turn.
After working her way al the way to the final table last year, Jetter has worked her starting count up to about 35,000 here in her bid to go back-to-back in Tahoe.
On a



flop, Grant Hillman got shoved on by the man to his right. Hillman had 14,825 left, and he made a reluctant call to put himself all in. As it turns out, he was right.
Showdown
Hillman:



Opponent:

Hillman was well in front, and his kicker held strong as the turn

and river

filled out the board. Mark him down for 32,000 now.
Action has slowed down as of late. With less than 25 minutes left in the level players are looking forward to bagging and tagging some chips for Day 2.
Level:

9
Blinds:

400/800
Ante:

100
We'll admit we're not paying especially close attention to the tables surrounding Mark Kroon. He's putting on a one-man show over there, and we just picked up another sick pot. It began with an unknown player opening to 1,800, and a second player flatting in the middle. Kroon decided a squeeze was in order, and he made a big reraise to 20,600. The initial raiser shoved in for just a few thousand more, folding the monkey in the middle. Kroon quickly called, though, and the raiser showed up pocket aces. Across the table, Kroon apologized in advance for the bad beat he was about to deliver, showing up


.
Flop:



Welp, there you have it. The turn and river ended up bringing blanks, and Kroon delivers a nasty beat to send another player to the rail. We'll have to wait for him to stack up, but it appears he's crossed the 100,000 chip mark with ease after dragging that pot.
We don't know either of the two men who were involved in this pot, but we did just watch a pretty sick beat.
The two men took a


flop heads up, and the player out of position ended up shoving with


. His opponent snapped him off with

, grinning and admitting, "I got lucky. I got lucky."
The turn brought the

and a small sweat, though, and the player with ace-king had two outs to the knockout. Sure enough, the

ripped off the deck, and we have ourselves a runner-runner situation. Big Slick ends up making the full house with running cowboys, and another player has been sent to the rail in brutal fashion.
A player in late position raised to 1,600, and Mark Kroon three-bet to 6,100 from the small blind in an uncounted pile of reraising chips. His opponent responded by shoving all in for 18,675, and Kroon asked for the count. His opponent had his cards in his hand, waiting anxiously to turn them over. Kroon noticed, and he asked the dealer if he could ask if his opponent would show to a fold. The dealer nodded, and Kroon turned to his opponent, chuckling now. "Will you show if I fold?" he went ahead and asked. His opponent shrugged and nodded.
"Oh my god," he said. "He can't even wait to show his hand. I mean, there's no way my hand can be good. But there's no way I can fold, either."
Finally, though, Kroon did talk himself into a fold. True to his word, Mr. Opponent flashed his


, and Kroon said that he'd folded two jacks.