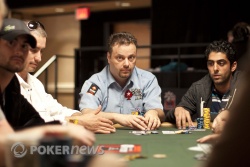 Pezzin Hanging Tough (10:36pm)
Pezzin: (X) (X) /




Nguyen: (X) (X) /


Pat Pezzin completed as last to act after Men Nguyen was forced to bring it in.  Nguyen raised, with Pezzin making the call.  Both players caught an open pair on fourth street.  Pezzin, with the bigger pair, had the betting lead and opted to double-bet.  Nguyen called.
On fifth street Pezzin bet again.  He had only 15,000 behind his 10,000-chip bet.  Nguyen asked for a count, then tanked for more than a minute before finally surrendering his hand.
Pezzin is up to 66,000.