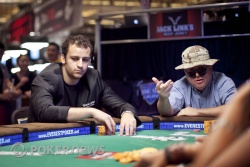 Christine Pietsch: (XX) /

- bring in and fold
Richard Ashby: (XX)



- fold
Sorel Mizzi:


/



/


Darren Shebell:


/




/

Christine Pietsch brought in and Richard Ashby called. Sorel Mizzi completed and Darren Shebell called; Pietsch folded and Ashby called.
Ashby bet out on fourth street and Mizzi thought about it for some time before raising. "I call!" announced a suspiciously cheerful Shebell; Ashby called too and they were at fifth street.
This time Ashby checked, and Mizzi now bet all in for 17,000. "Sorel Mizzi, stud champion!" shouted a passing Mike Matusow. He couldn't have been more wrong. The action moved over to Shebell, who raised. Back to Ashby, who tanked for a minute or two while Mizzi showed his down cards to a couple of railers. Eventually Ashby folded, and Mizzi and Shebell turned their cards up.
Once the cards had all been dealt, Mizzi could only boast a pair of eights. He was standing and wishing the rest of the table good luck before he'd even seen the last two cards. Shebell's set of deuces were good, and our field is now five.