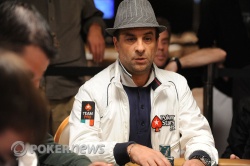 Well, that's it for tonight. We don't yet have a bracelet winner, but we are one step closer to it now that we've got down to an official final table.
After that last bombshell of a hand, Salvatore Bonavena lurched into the lead, but this is no-limit hold'em and anything can happen.
The final table will take place tomorrow at 3pm in the Pavilion Room - there's some sort of other tournament going on in the Amazon Room that's going to require an awful lot of space - and the lineup will be as follows.
Seat 1: Mike Wattel - 365,000
Seat 2: Salvatore Bonavena - 4,505,000
Seat 3: Ali Alawadhi - 670,000
Seat 4: Joseph Curcio - 1,205,000
Seat 5: Tomer Berda - 3,410,000
Seat 6: Bryan Porter - 740,000
Seat 7: Alfonso Amendola - 910,000
Seat 8: Hungcheng Hung - 740,000
Seat 9: Vladimir Kochelaevskiy - 2,025,000